Duck & Goose Hunting Articles, Hunting Tips and Waterfowl Recipes
We are very pleased to have the opportunity to share with you some our hunting articles, waterfowl recipes and our hunting tips & tricks. We have had the privilege to have written and published many of our articles on some of the internets finest waterfowl forums, blogs and article websites.
We hope that you find these Missouri hunting observations, goose hunting tips and waterfowl recipes as enjoyable as we have found them pleasurable to compose. If you have a favorite duck and goose recipe or a special waterfowl hunting tip you would wish to share, please feel free to submit it to us for review and possible addition to our pages.

---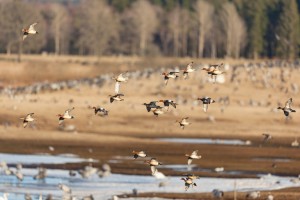 More good news for Missouri duck hunting the U.S. Fish & Wildlife released today its 2014 trends in Duck Breeding populations; this report is based on surveys conducted this past May and June.   This report represents an 8% increase from last year's estimate of 45.6 Million to 49.2 Million and that last years was 43% higher than the 1955 -2013 long term average.  This  Continues a three year trend of excellent conditions and population growth for a number of waterfowl species.
Excellent News for Duck Hunters
Last season duck Hunters who joined us both the Golden Triangle Duck Club and in south eastern Missouri were lucky enough to see firsthand increased duck numbers and a good cold winter.  These two factors ushered in large numbers of Migrating waterfowl the like of which had not been seen a few years. Most of November and all of December have over 300,000 ducks wintering along the Missouri river in north central Missouri.  Hunters had outstanding success at both water hunting and our pit dry filed hunts in that area.
In late December and most of January hunters whom joined us in southeastern Missouri for our guided specklebelly goose and duck hunting saw large numbers of Adult specklebelly geese and big pushes of Mallards and Pintail ducks. re just now beginning to look for that next hunting trip location, contact us I am sure we can be of help getting you in on a fantastic Missouri duck hunting trip.
For a more in-depth detail reports see: ( http://www.flyways.us/sites/default/files/uploads/trends_in_duck_breeding_populations_2014.pdf) and ( http://www.flyways.us/status-of-waterfowl/population-estimates/2014-breeding-duck-population-estimates )