Duck & Goose Hunting Articles, Hunting Tips and Waterfowl Recipes
We are very pleased to have the opportunity to share with you some our hunting articles, waterfowl recipes and our hunting tips & tricks. We have had the privilege to have written and published many of our articles on some of the internets finest waterfowl forums, blogs and article websites.
We hope that you find these Missouri hunting observations, goose hunting tips and waterfowl recipes as enjoyable as we have found them pleasurable to compose. If you have a favorite duck and goose recipe or a special waterfowl hunting tip you would wish to share, please feel free to submit it to us for review and possible addition to our pages.

---
Whether you're a long-time duck hunting enthusiast or someone that's considering waterfowl hunting for the first time, it's not hard to see why duck hunting in particular appeals to so many people. Duck hunting gets you out there in the thick of Mother Nature, breathing the fresh air and becoming one with the landscape. It's a chance to share a primal experience that's both challenging and enriching with close friends. When a hunt goes well, it provides the hunter with an amazing sense of accomplishment as well.
However, there's really something special to be said for the unique hunting experiences to be found in Missouri. Let's take a closer look at the benefits and perks duck hunting trips in Missouri bring to the table. It won't be long before you and your hunting buddies are chomping at the bit to schedule a trip of your own.
1. It's Cost Effective
As is the case with any pastime worth pursuing, hunting comes along with certain costs. Some of those costs are going to be the same regardless of where and what you hunt – those related to ammunition, firearms, hunting dogs, and hunting gear for instance. Other costs are going to depend on where you and your hunting party decide to go. Permit costs and fuel costs are two excellent examples.
To begin with, the costs of stamps and permits in the state of Missouri are among the lowest in the entire country. Although the exact type of permit or stamp you will need will depend on age, where you live, and what type of hunting you plan on doing, you'll still save in the end by choosing Missouri. Fuel costs are also quite low in comparison with those in other states. This isn't just the case with automobile fuel, but boat fuel as well.
2. Extend Your Hunting Season
Duck hunting season will vary in length from location to location, but Missouri offers avid waterfowl hunters a significant portion of the calendar year to enjoy their favorite sport. If you're interested in duck hunting in particular, you can hunt in the North zone from late October to late December, in the middle zone from early November to late December, and the South zone from late November to late January.
Expand your interests to include additional species like geese and you can take advantage of even more different periods in which to hunt. Some species coincide with hunting seasons that last clear into late April, offering you an excellent span of time during which to plan some excellent hunting adventures.
3. Environmentally Responsible Hunting Grounds
More and more people these days are becoming concerned with whether or not their habits and hobbies are environmentally sustainable. Hunters are no exception. That said, you'll be pleased to know that Missouri offers avid duck hunters access to protected, well-preserved hunting habitats where great care is taken to make sure that the local ecosystem is preserved.   Recent influxes of state funds combine with constant assistance from conservation entities in the area to make sure all hunting grounds will continue to be bountiful, beautiful, and fruitful on an ongoing basis into the future. Enjoy exciting, fulfilling adventures without any of the guilt!
4. Challenging Hunting Locations
If you're a seasoned duck hunter, then it's no doubt incredibly important to you that your hunting locations be challenging. Missouri's breathtaking hunting grounds are that and then some, as the area features many different terrains and habitats, each with its own unique experience to offer.
Enjoy land-based hunting in environments that feature unique obstacles and present a formidable challenge for even the most experienced hunters. Beginners and experts alike will love the many water-based options that are also available. Missouri's waterfowl hunting grounds are famous for their beauty and variety for a reason.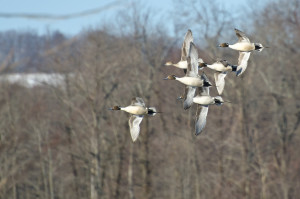 5. Plenty of Different Waterfowl
If you've never been hunting in Missouri before, you may start out mostly interested in duck hunting trips. However, it won't be long before you'll want to start branching out a bit. Missouri features a wide variety of different species, each with its own challenges and perks to offer. In addition to ducks, you can hunt Snow geese, Specklebelly geese, divers, and more.
As touched on above, the more different species you decide to hunt, the more periods out of the year you can actually spend hunting in the first place. If you've been looking for an excuse to hit the fields more often, consider it found!
6. Fantastic Guided Hunting Options
If you're new to the area, then you'll naturally want to make sure you get the absolute most out of your hunting experience despite that fact. That said, you'll definitely want to consider planning a guided hunting trip instead of going it alone. Missouri is well known for setting an industry standard.
Missouri guided duck hunting trips allow you learn from seasoned experts that can teach you how to take advantage of the numerous situations you'll encounter while making your way through the region's challenging grounds. You'll have someone along that knows where to go for the best possible experience. You'll have the inside track on how and where to find exactly the birds you're most interested in.
Most importantly of all, you won't have to waste time playing guessing games as far as your target or fumbling around lost. You'll be free to focus on having a fun, productive trip instead of learning the ropes. Guided trips are economical as well! Explore your options today and experience the thrill of Missouri duck hunting first hand