Duck & Goose Hunting Articles, Hunting Tips and Waterfowl Recipes
We are very pleased to have the opportunity to share with you some our hunting articles, waterfowl recipes and our hunting tips & tricks. We have had the privilege to have written and published many of our articles on some of the internets finest waterfowl forums, blogs and article websites.
We hope that you find these Missouri hunting observations, goose hunting tips and waterfowl recipes as enjoyable as we have found them pleasurable to compose. If you have a favorite duck and goose recipe or a special waterfowl hunting tip you would wish to share, please feel free to submit it to us for review and possible addition to our pages.

---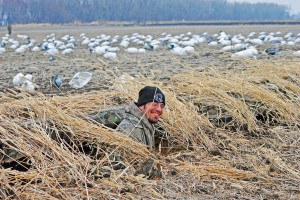 Even for professional waterfowl hunting guides, going after light geese is a challenge as these birds are much more sensitive to the environment and are not easily lured by even the most realistic-looking decoys and calls.    However, brushing up on your skills and doing some research and analysis can definitely prove to be a wise decision and will reward you with good dividends.
Here is a step by step guide on snow goose hunts that can definitely increase your chances of scoring a decent number of light geese next season.
Start in the Right Spot
Step one is simple – find that ice line! Snow geese flocks rarely come to a stop at places where all food and water is covered by snow.  Migratory birds moving up north mostly stop and stage at what they call the ice line, and this indicates the spot that can turn out to be your best bet to find your largest concentration of leading edge snow geese. Check the weather stations regularly to pinpoint locations where a temperature change is likely as this may be the haven for snow goose hunts that you are looking for.
Gearing Up for the Win!
Light geese require more expertise and a little more attention to detail than other waterfowl when hunting. Therefore, it is a good idea to have quality full body and windsock decoys as well as an electronic caller to increase chances of decoying snow geese. GUIDED SNOW GOOSE HUNTS are a much more feasible option since professionals have much more experience at predicting the behavior and feeding pattern of light geese.
It's All in the Numbers
High-traffic areas frequently attract birds' year after year and concentrating on these will increase your chances of decoying the spring geese successfully. Areas where there is a high traffic of snow geese means younger birds will be migrating in with the later flocks, and as most are young with little or no experience of decoys and electronic calls, your chances of a successful hunt are improved to a large extent.
Go for the Juveniles
If you analyze the flock of snow geese in advance, you'll notice that the leading edge usually consists of adult birds that aren't as easily fooled by decoys or even electronic calls. Adult birds are much more experienced and have witnessed everything from different decoys to variations of calls and thus can be extremely difficult to decoy. On the other hand, younger birds generally fly in the middle or near the end of the migration and are more inexperienced, thus they offer a greater chance of a successful snow goose hunt.