Duck & Goose Hunting Articles, Hunting Tips and Waterfowl Recipes
We are very pleased to have the opportunity to share with you some our hunting articles, waterfowl recipes and our hunting tips & tricks. We have had the privilege to have written and published many of our articles on some of the internets finest waterfowl forums, blogs and article websites.
We hope that you find these Missouri hunting observations, goose hunting tips and waterfowl recipes as enjoyable as we have found them pleasurable to compose. If you have a favorite duck and goose recipe or a special waterfowl hunting tip you would wish to share, please feel free to submit it to us for review and possible addition to our pages.

---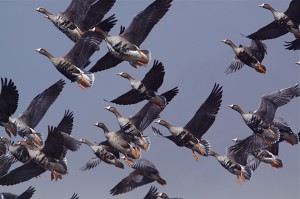 Any hunter that's been involved with the sport for a bit will tell you that Specklebelly goose hunting isn't like shooting fish in a barrel. Wary and cunning, these white-fronted geese are harder to bluff than many of their cousin species, which makes it far more difficult for hunters to approach them more closely. And it is this "wildness" that makes them an even more treasured harvest for eager hunters!
Success requires hunters to apply some craft and shrewdness of their own. And with a little bit of imagination and patience thrown in, you'll easily be able to bag your limit every time!
Knowing where to look
Shallow marshy land and open fields are where you're likely to get great opportunities for Specklebelly goose hunting. Recently tiled fields with puddles of water and muddy marches are good attractions too. This terrain makes for a great gathering place for them, and offers the white-fronts an array of vegetation to feed on. But they are also known to feast in rice fields and on other crops too.
These are social creatures of habit, with families of birds migrating together in groups, and often frequenting the same feeding grounds year after year.  It is therefore highly likely that hunters who bagged a few last year, will have similar luck again in the same fields this year and the next.
An inviting call
To get a good harvest of Specklebellies, it's important to realize the importance that calls play on the hunt. While calls are important for duck hunting too, they can often be taken in by an effective spread of decoys. But with Specks, it's the reverse. Hunters will have a better chance of convincing the Speck to head in closer, if the right calling sequence is used.
Veteran hunters will tell you that calling a Specklebelly  is far different from the strategy used to call ducks. For the latter, it's best to cease calling once the ducks have committed themselves. However, when calling Specklebelly geese, pausing the call before the white-fronted  geese are within gun range can set off alarm bells for the birds. As the Specks close in, it's best to tone down the yodeling and add some clucking into the mix.
Spreading success
On the brighter side though, unlike many other species that need spreads of anywhere between 500 and 800 decoys for a modest harvest,  Specklebelly goose hunting doesn't require extensive or elaborate spreads of decoys. With an ideal location, and a good call, hunters have been known to easily bag their limit using  a dozen or so decoys.   And that holds true regardless of where – fields or marshes – you hunt.
One tip that savvy hunters offer for successful Specklebelly goose hunting is the positioning of the sentinel decoys in your spread. Working geese often tend to focus their attentions in the same direction as the sentinels. It is therefore important, when arranging your spreads, to ensure the sentinel decoys are facing away from your blind.