Duck & Goose Hunting Articles, Hunting Tips and Waterfowl Recipes
We are very pleased to have the opportunity to share with you some our hunting articles, waterfowl recipes and our hunting tips & tricks. We have had the privilege to have written and published many of our articles on some of the internets finest waterfowl forums, blogs and article websites.
We hope that you find these Missouri hunting observations, goose hunting tips and waterfowl recipes as enjoyable as we have found them pleasurable to compose. If you have a favorite duck and goose recipe or a special waterfowl hunting tip you would wish to share, please feel free to submit it to us for review and possible addition to our pages.

---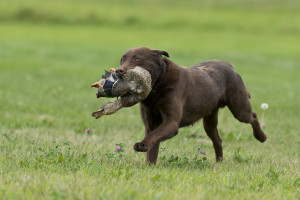 There are lots of ways to take goose hunting in Missouri to the next level, but adding a good hunting dog to your routine is definitely one to consider sooner rather than later. It's important to realize that a given hunting dog is really only going to be as good as his training though. Let's take a closer look at some tips to remember when preparing your dog for his future as a champion Missouri goose hunting companion.
Basic Conditioning for Hunting Puppies
Naturally, not every breed of hunting dog is going to be ideal for every type of game. That said, the best dogs for hunting waterfowl like ducks, geese, and so forth are going to be retrievers, as that breed's natural strengths the Labrador retriever is the most common and would be a first-class fit here. Starting with a puppy is recommended.
You'll want to begin with basic obedience and socializing your dog in regards to both people and other dogs, of course, just as you would any puppy. You'll also want to get him used to the idea of traveling in the vehicles and being out in settings similar to the ones where you'll be hunting. (Agricultural fields make good places to train.)
Later on he or she should be introduced to the sound of gunfire so that they are used to it as well.  This step is very critical, you must sure your dog's first encounter with gunfire pleasant. This can be accomplished while your puppy is playing/training ( this will let them associate the sound with having fun) with the use of a starters 22 shooting blanks.  If the puppy baulks or hesitates stop and wait coming back to this step in a week or so. If introduced to quickly or incorrectly , you will not get a second chance.
Introducing Your Dog to Birds
After the initial wing has been used and his natural retrieving instincts are starting to kick in move up to whole birds.   Pigeons (live is best) make a great first introduction to game birds for a young dog just starting out. The sooner the better you can clip the bird wing so that it cannot fly, this will help get the pups juices really flowing.
If he's a little more excitable, the pigeon will be interesting, but not interesting enough to rile him up so much that he can't concentrate.
Start by setting up a quiet place where you and your pup won't be disturbed or distracted. Allow your dog to hold the bird and get used to the feel of it in his mouth. However, you should promptly discourage any biting, shaking, or similar behavior. Training your dog against this now will help avoid mutilated game later on. Pigeons also make good birds to use when training your dog to actually retrieve.
Acclimatizing Your Dog to Geese
Whether you're training a young dog to become a good goose hunter or a fully grown/trained dog learn to retrieve geese, you'll eventually want to get him used to the scent of a goose in particular. Geese are, of course, much larger and heavier than ducks or other game birds. They also smell much different to a dog. Start by letting your dog play with a snow goose wing to start with. Allow him to get used to the scent and, of course, discourage any tearing or rough treatment of the wing.
When you do take your dog out goose hunting in Missouri for the first time, make sure that a given goose is dead before sending your dog out to retrieve it. Crippled geese can be formidable foes for a young dog that isn't used to dealing with them.
Be Patient with the Dog
Young waterfowl hunting retrievers can have a bit of trouble dealing with geese at first, so it's important to be patient. If necessary, you can even go out into the field and pick the bird up yourself. Encourage your dog to "fetch" at the point where the bird's wing joint is, as this will be the easiest way for him to pick up a larger goose. If it's a smaller goose, the base of the neck is best.
At the end of the day, dogs are just like people in that they need someone to show them how to do things. With plenty of practice and patience, your dog can be shown how to be an expert retriever for goose hunting in Missouri as well.