Duck & Goose Hunting Articles, Hunting Tips and Waterfowl Recipes
We are very pleased to have the opportunity to share with you some our hunting articles, waterfowl recipes and our hunting tips & tricks. We have had the privilege to have written and published many of our articles on some of the internets finest waterfowl forums, blogs and article websites.
We hope that you find these Missouri hunting observations, goose hunting tips and waterfowl recipes as enjoyable as we have found them pleasurable to compose. If you have a favorite duck and goose recipe or a special waterfowl hunting tip you would wish to share, please feel free to submit it to us for review and possible addition to our pages.

---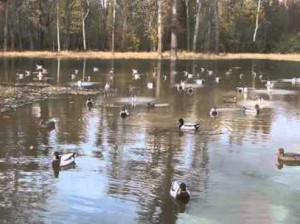 Successful DUCK HUNTING is all about simulating real-life movements using spread and decoy strategies. The best motion duck decoy will help bring that realism to your spread. The question that most hunters have however is which decoys will work, and what to avoid. Here are a few pointers on what makes the best motion duck decoy:
MOTION: Without a doubt, realistic motion is one of the key element that goes into making a decoy look real. Winged-spinners have been the motion generator of choice for a bit now, but ducks have gradually caught on to them, and have adapted "avoidance" strategies of their own.
The best motion duck decoy available today is one that uses "non spinning" technology to create waves and motion. A great choice is a "duck butt" decoy that mimics a feeding duck with its head in water. No wings spinning here! By turning on the pump, the decoy squirts streams of water which wobbles the device, neatly simulating a feeding duck.
MOTION ON DEMAND: While motion is key to selecting the best motion duck decoy, how you produce that motion is also critical. Traditionally, jerk-cords are used to control motion, forcing duck hunters to tug/pull/jerk the cord with their hands to produce motion on demand.
Hunters' hands have better uses; therefore this method (jerk-cord) is quickly being dropped by hunters in favor of less "hands on" motion decoys. Decoys that are controlled using a remote controller are fast becoming the decoy of choice these days.
MOTION IN WATER: The best motion duck hunting decoy is one that serves you well near water as well as in water. Even decoys that aren't submerged in water could be compromised by rain or other forms of precipitation. When choosing your decoy, give special attention to its waterproofing, especially around battery compartments and remote control sensors.
POWERFUL MOTION: Of course using jerk-cords give you power on demand too, but the motion produced is somewhat limited, and sometimes unnatural, scaring the ducks away. Battery powered duck decoys are now the best choice for a motion duck decoy. The longer the battery power lasts, the better it is since you won't need frequent battery changes that will scare away the ducks.
PAINT POWER: Never underestimate the power of paint when it comes to decoying ducks. The more realistic the paint on the decoy, the greater is the likelihood that they will be decoyed into making a landing amongst your spread. Choose motion decoys whose paint isn't too shiny and that doesn't reflect in the sun. A reflecting duck (in decoy form) is a red flag to ducks to avoid a spread!
These are a few tips to use when selecting a duck decoy for your needs. Great motion capabilities, realistic-looking paint and design, the ability to produce motion in water and away from it, and power when you need it most are essential characteristics to look for in the best motion duck hunting decoy.