Duck & Goose Hunting Articles, Hunting Tips and Waterfowl Recipes
We are very pleased to have the opportunity to share with you some our hunting articles, waterfowl recipes and our hunting tips & tricks. We have had the privilege to have written and published many of our articles on some of the internets finest waterfowl forums, blogs and article websites.
We hope that you find these Missouri hunting observations, goose hunting tips and waterfowl recipes as enjoyable as we have found them pleasurable to compose. If you have a favorite duck and goose recipe or a special waterfowl hunting tip you would wish to share, please feel free to submit it to us for review and possible addition to our pages.

---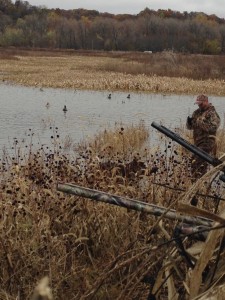 Duck hunting is growing in popularity, which means there are more and more first time hunters slinging shotguns every season. Unfortunately, not all of them have taken the time to learn duck hunting etiquette. The last thing you want to do is upset a man or woman holding a loaded shotgun! In order to make everyone's next (or first) hunting trip more enjoyable, we have put together some duck hunting etiquette tips to help all of our new, and some old, duck hunting enthusiasts enjoy their trip as well as not spoiling someone else's.
Respect Your Host – if you are lucky enough to have a friend invite you along for a trip, respect the fact that it is his or her trip, not yours. If he or she did not invite you to bring your dog, don't bring your dog. Also, remember, your host or blind boss will call the shot,  don't just start shooting when you see a flock flying over. If he or she does not give you the nod to fire away, wait. It also would not hurt to ask your host prior to the trip if there is anything they would like you to bring. Even if they do not, the offer will be appreciated.
Don't Be a Topper – one thing is for sure, at some point, the war stories will start to be told. Don't be "that guy" that always one ups everyone else, and you know the type of guy we are talking about. You can start making up stories and somehow, someway; he has a version of the same story where he outdoes you just enough to ensure that his story is a bit more sensational than yours.
 Don't Be a Complainer – the last thing hunters want is to have someone they invited along for a trip start complaining about the lack of ducks, the cold temperatures, the wet conditions, or the dirt and mud that is getting all over those new boots. The dirt comes off and regardless of the conditions or lack of waterfowl, you ARE having the time of your life.
 Respect Your Lodging – be it a rented club, someone's home, or a hotel, think ahead and prepare to leave your muddy boots and waders outside. Simply put, don't go rushing through the door after a day in the muddy woods or lying belly down in a muddy blind. Basically, try not be a farm animal when you get back to civilization.
Watch Your Distance – you need to realize there are more than likely other hunters in your area. Regardless of the confidence, you have in your long distance shooting, realize that taking a long shot probably has you interfering with other hunters in the area. Eventually, those hunters will find out who you are, and remember; they have shotguns!
 Stop Calling My Birds! – if you see some ducks working another spread, keep the duck call in your pocket. Calling another hunter's birds off is about as bad as it gets. Many hunters will work the same areas during the same times of the year and if your host is one of these individuals, you could be making life very difficult for him or her in the future. As a matter of fact, just forget about calling! Let your host handle those duties because trust me, you are not the Frank Sinatra of duck callers.
Get Up Early or Stay in Bed – most duck hunters will get up VERY early to stake out their areas, set up their decoys, and work the morning flight. Please, please, please do not sleep in and decide you feel like working out of the boat today. All you are going to do is upset a lot of hunters that have set up their spreads and that have been lying in mud for the last three hours waiting for the ducks to fly.  If you miss the morning hunt, you can always set up later in the day for the afternoon flight.
 If You Don't Own the Land, You Don't Own the Land! – duck hunting guides and duck hunting clubs will often own or lease the lands they and their clients hunt. However, there is still plenty of free land for individuals to hunt on their own. As is the nature of a hunting man, he will think that if he has hunted a specific area for the past ten years, he owns the land even though he really doesn't. Simply put, if someone else gets there before you, find another spot don't set up to close to other hunters.
You Are in a Duck Hunting Boat, not a Speed Boat – there will inevitably come a time when you encounter a boat that does not quite have the power that your boat has. When this happens, slow down and pass them without creating a massive wake that will rock or flip their boat. Karma is a bitch and somehow she will find what you did and return the favor if you show off your power for fun.
 Leave It Better Than You Found It – even though you are lying in mud and covered from head to toe in gunk, try not to be a pig. Take the time to police your area when you leave and try to leave it just a little better than you found it. It won't hurt you to pick up an extra piece of trash or two when you are gathering your day's mess. It might even make you feel good about yourself. Furthermore, it will set a great example for the rest of the hunters in your group.