Duck & Goose Hunting Articles, Hunting Tips and Waterfowl Recipes
We are very pleased to have the opportunity to share with you some our hunting articles, waterfowl recipes and our hunting tips & tricks. We have had the privilege to have written and published many of our articles on some of the internets finest waterfowl forums, blogs and article websites.
We hope that you find these Missouri hunting observations, goose hunting tips and waterfowl recipes as enjoyable as we have found them pleasurable to compose. If you have a favorite duck and goose recipe or a special waterfowl hunting tip you would wish to share, please feel free to submit it to us for review and possible addition to our pages.

---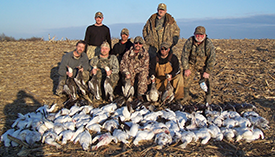 You are probably asking yourself what you should do to choose the best snow goose guides. Below are some insights into how you should evaluate guided snow goose hunts.
What of Slow Days?
One of the first things you should understand is that even the best of snow goose outfitters go through slow days. You should expect peaks and valleys in every season. Everyone wants to kill geese, but how big your pile is at the end of any given day should not be the only criteria to use when looking for the best-guided hunt. The average decoy hunt is about 15 to 35 birds per field. However, on most days a majority of hunters will experience the average. If an outfitter claims big numbers every day, it is best to move on to the next available one. In most cases, such individuals are totaling the bird kills from several fields. For example if one claims to average 100 per day, what they are probably not telling you is that they have 4 fields and each field averages about 25 birds. This is very misleading. Slow days can happen to anybody, since they are usually weather related, everybody can experience them after they have spent some time in the field.
References
For most part, references from guided outfitters are a waste of time. Most outfitters will provide a reference to someone they know will speak highly of their services. The best type of reference is from an individual you personally know and that has hunted with a particular snow goose outfitter in the recent past. Below are two steps to follow for quality services:
• Read the outfitter's website, if it is full of typos and misspellings then look at the next outfitter on your list.
• Call each outfitter on your list, weigh whether their sales pitch sounds legit, and do not buy into big claims because you want them to be true.
Large or Small Outfitters?
It is best to consider both. Some Missouri snow goose hunts are large outfits, while others are small groups. Large guide services should have at least 70% or more repeat clients every year in order to stay relevant. The people in these groups keep coming back since they are satisfied with the experiences they have received every time. Larger outfitters also have more money to spend on purchasing the latest technologically advanced equipment, high quality employees and leases. A majority of the equipment are a luxury for most small outfits.
Discounted Rates
Always be cautious of services that run discounted hunts. This point refers back to the point on repeat customers. If quality service is not available, one should not expect repeat business. In order to get new clients into the crowded field, some companies resort to offering cheap hunts. Some discounted guides are businesses that do not take care of financial obligations such as report incomes or taxes. They are also likely not to have workers comp or liability insurance. Such outfitters are more likely going to burn you.
Your guide should always show up on time during a goose hunt. They should also do what they promised, have expert employees with high quality equipment and they always keep you informed. When they do all this, your success on the field will show.