Duck & Goose Hunting Articles, Hunting Tips and Waterfowl Recipes
We are very pleased to have the opportunity to share with you some our hunting articles, waterfowl recipes and our hunting tips & tricks. We have had the privilege to have written and published many of our articles on some of the internets finest waterfowl forums, blogs and article websites.
We hope that you find these Missouri hunting observations, goose hunting tips and waterfowl recipes as enjoyable as we have found them pleasurable to compose. If you have a favorite duck and goose recipe or a special waterfowl hunting tip you would wish to share, please feel free to submit it to us for review and possible addition to our pages.

---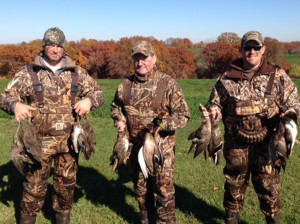 So, you have been hunting for years and while you always seem to bag a few ducks every season, you are far from satisfied with your kills. You just don't seem to be able to find the right spots to see large numbers of birds as they migrate through the flyway. Furthermore, your decoys are aged and need to be replaced as well as only having marginal calling skills. Is it possible to fix these problems in a single season?
Believe it or not, there is a very simple answer to all these problems… Join a duck hunting club! By joining a Missouri duck hunting club, you dramatically improve your chances of having an incredible duck hunting season. Why? Here are just a few of the reasons you should join:
 High Quality Decoys –  clubs will supply all of the decoys for all of the spreads. And, these are not the decoys you find at Wal-Mart! Avery, Dakota, and Tanglefree decoys are the best in the business, and this is exactly what we use for clients during our guided duck hunts.
 Expert Guides and Dogs – while you may love to take your pup hunting, do you really have the time to train him properly? For those of you that don't, the club provides experienced dogs that perform perfectly all the time. In addition, you get to benefit from the skills of the guides that in most cases, have well over a decade of experience in this region. In fact, many of the guides that work for the club are award winning call makers as well as being competitive duck callers. You will get a true education on how to call and decoy the ducks right to your blind.
 Incredible Locations – in many popular duck hunting areas, duck hunting clubs have some of the  best land located in the flyway. This makes it very difficult for the independent hunter to find really good spots that will guarantee them to see a significant amount of birds during a trip. When you hunt at a duck hunting club, you get access to these areas and will see the best hunting conditions during every season. Whether you prefer to hunt early or late in the season, the lands are planted and maintained to draw in the birds during the migratory season.
One factor many hunters will use to talk themselves out of hunting at a duck club is the cost. However, when you add up the costs of training and boarding your own dog, decoys, and possibly leasing land, they will far outweigh the costs of using a duck club where you are all but guaranteed that trophy duck to put on the table for dinner.
Still skeptical?  Simply book a guided duck hunting trip to see all of the advantages you will gain from going on a hunt at a duck hunting club. We are pretty sure that after a few days in this type of setting, you will be calling to secure your next hunting spot before your trip is even over!