Duck & Goose Hunting Articles, Hunting Tips and Waterfowl Recipes
We are very pleased to have the opportunity to share with you some our hunting articles, waterfowl recipes and our hunting tips & tricks. We have had the privilege to have written and published many of our articles on some of the internets finest waterfowl forums, blogs and article websites.
We hope that you find these Missouri hunting observations, goose hunting tips and waterfowl recipes as enjoyable as we have found them pleasurable to compose. If you have a favorite duck and goose recipe or a special waterfowl hunting tip you would wish to share, please feel free to submit it to us for review and possible addition to our pages.

---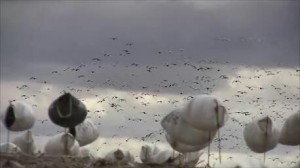 Snow Geese are intelligent creatures and can spot decoy spreads that don't look right from miles away. The trick to enticing incoming flock is in intelligent Snow goose decoy placement. Contrary to what some hunters might think, successfully decoying a flock is not only about using thousands of decoys. Rather, success lies in how the decoys are put out.
While Snow goose hunting decoy placement should take into consideration the behavior patterns adopted by the flocks. Their habit of feeding aggressively in tight formation in the early mornings, and then spreading out to loaf around later in the afternoons gives hunters a cue to mimic their decoy patterns accordingly.
Ideally therefore, an early morning Snow goose decoy placement in the form of a tear drop, keeping the wider end downwind with the pointed end facing the hunter, will serve to more realistically imitate a flock's morning feeding pattern.  Keep the spread sparse at the wide end, while thickening it at the pointed end of the tear drop.
For the mid day loafing period, it's best to spread the decoys a bit further. Instead of keeping them at 1 to 2 feet intervals, doubling the distance between decoys ideally simulates a flock that's less aggressive. Push the flyers deeper down into the dirt, keeping them roughly 2 feet from the ground. It'll mimic birds that are just jumping upwards to get a stretch of wings before they land back down again.
After the mid day resting and loafing period is done, the geese are ready for yet another round of heavy feeding. They'll usually leave the comfort of their roosts and flock back to the morning hungry feeding formation, and your decoy placement for the Snow goose hunting should try and replicate that pattern too.
Some hunters prefer to use a circular decoy placement strategy, comprising of a shape that resembles a large ball-like pattern, reinforced by four additional smaller ball-shaped patterns several yards away. This type of decoy placement presents a good funneling channel for the geese, regardless of what the prevailing wind conditions are.  However, hunting is often better on windy days because the wind adds motion to the decoys to make them look alive.
While decoy placement is essential in encouraging a hungry flock to decoy, wind direction and expected approach also play an important part in hunting success. Make sure you position your blinds appropriately so that they work in concert with the decoy placement strategy you use. For instance, putting a blind upwind on windy days will not meet with much success, no matter how intelligent your placement is.
When working out the Snow goose decoy placement strategy that works best for you, remember that the flocks you are trying to decoy have likely been hunted and decoyed even before they come to your field, and in seasons past too. Their survival instinct has taught them to be cautious about approaching a field. The only way to ensure they decoy is to use the appropriate number and type of decoys, and an intelligent snow goose hunting strategy.