Duck & Goose Hunting Articles, Hunting Tips and Waterfowl Recipes
We are very pleased to have the opportunity to share with you some our hunting articles, waterfowl recipes and our hunting tips & tricks. We have had the privilege to have written and published many of our articles on some of the internets finest waterfowl forums, blogs and article websites.
We hope that you find these Missouri hunting observations, goose hunting tips and waterfowl recipes as enjoyable as we have found them pleasurable to compose. If you have a favorite duck and goose recipe or a special waterfowl hunting tip you would wish to share, please feel free to submit it to us for review and possible addition to our pages.

---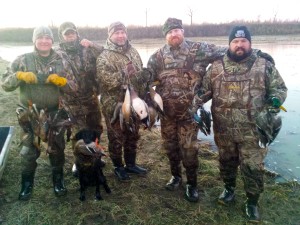 Palms sweating, heart pounding, throat thickening and anxiety as you wade into a rice field: waterfowlers know all too well that few other activities can trigger so many emotions.  Before you let cortisol and adrenaline overhaul your system completely, consider this: what if there was a more effective way of hunting?
If you are one of the many sportsmen who enjoy the thrill and excitement of outdoor activities, then maybe it is high time you gave guided duck and goose hunting a chance. We know that your instinct and expertise are extremely valuable assets, but it sometimes takes a bit more to make the most out of your hunting excursions.
Missouri waterfowlers can experience the joy of finding abundant wildlife. What, with its unique and majestic flyway, this state is like no other when it comes to attracting waterfowl. But popularity alone cannot ensure a bountiful hunting experience; this is why folks at Show Me Snow Geese have gone the extra mile by providing extremely useful tips and tactics, straight from the horse's mouth. If you are interested in learning more about the perks of Missouri duck and goose hunting, and indulge in an action packed activity like few others.
Why take a Guided Duck and Goose Hunting Trip?
However pleasant and alluring, waterfowl hunting can also turn out to be a tricky business. Therefore, doing a little research may contribute enormously to enhancing your next hunting trip. Here are some of the most outstanding reasons to go on a guided duck hunt.
Specialized Activities: In spite of your previous experience, some types of hunting are definitely more challenging than others. If you are planning to expand your horizons and take up say snow goose hunting, you may already know that some strategies may not work as effectively. For one thing, snow geese have proved to be a lot more cautious, thus making the task more difficult. These birds don't generally fall for the usual tricks and have developed a way to detect most hunters' attempts.
Professional goose hunting outfitters on the other hand, provide the experience they have gathered through years of observation and trial-and-error. Similarly, when you join any of the guided parties, you have first-hand access to these people's experience in analyzing fields and setting up decoys. Guides have been so thoroughly trained and are so fully-equipped that they are able to properly use highly-sophisticated motion decoys with precision and expertise. You will have very few other chances of witnessing this level of experience.
The Ultimate Learning Experience: But perhaps the most attractive feature of joining a guided hunt is that you can pick up information from the expert guides for yourself.  These professional duck and goose hunting guides will assure that your hunting trip will be taken to a completely different level altogether. What are some of the tips you can learn about?
Setting up decoys: This is one of the most sensitive aspects of waterfowl hunting as these birds are truly sensitive creatures. You will learn about the different types of decoys, which must meet certain criteria in order to ensure efficiency. Apart from looking real, decoys should be able to move with the slightest breeze since stationary ones can raise alertness among the decoying birds. Another useful tip concerns the use of both: full-body decoys and windsocks.
Knowing the Terrain: Another perk of hunting with the pros is that you can learn about Missouri's geographical advantages. Full of soybean and rice fields, Missouri's environment is an optimal feeding ground for waterfowl. By choosing to go on a guided hunt, you will have access to the best hunting grounds in the area.
Isn't about time to treat yourself to the unforgettable experience of going on a guided duck and goose hunting trip. Let the pros do the hard work while you set back and enjoy yourself.