Duck & Goose Hunting Articles, Hunting Tips and Waterfowl Recipes
We are very pleased to have the opportunity to share with you some our hunting articles, waterfowl recipes and our hunting tips & tricks. We have had the privilege to have written and published many of our articles on some of the internets finest waterfowl forums, blogs and article websites.
We hope that you find these Missouri hunting observations, goose hunting tips and waterfowl recipes as enjoyable as we have found them pleasurable to compose. If you have a favorite duck and goose recipe or a special waterfowl hunting tip you would wish to share, please feel free to submit it to us for review and possible addition to our pages.

---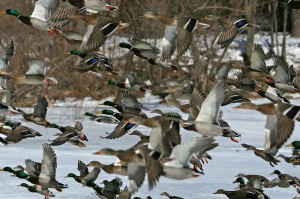 It is that time of year again when all eyes turn to Missouri, now that the waterfowl hunting season has been announced.   As we had expected following the US Fish & Wildlife 2014 Duck Breeding populations report showing a 8% increase over the previous seasons report, we again have a liberal duck hunting season once again!
In broad strokes the Missouri duck hunting season will be almost as last season was with little to no change.  Daily limit of 6 ducks with 18 in possession will remain the same and you can find the species limit breakdown at this Link.   Canada geese will remain at 3 & 9, Specklebelly geese at 2 & 6 and regular season Snow and Blue geese at 20 and no possession limits.
Missouri duck hunting north zone season will once again start on the last weekend in October on the 25th and end on December 23rd. The Missouri south zone opens on November 27th and will come to an end on January 25th.
Regular season Missouri dark goose hunting (Canada,Brant and Specklebelly Geese) opens on November 27th and will run until January 31st. One day later the Missouri spring snow goose conservation ordered season begins February 1st and ending on April 30th although the good hunt able numbers will be north of the Missouri border by that time.   The entire Missouri hunting season schedule can be read HERE!
Now that the 2014/15 Missouri waterfowl hunting dates have been released we expect our open hunting dates to start getting very scarce in the near future.  We currently have 4 weekend dates and a handful of weekdays still available for hunts at our north zone hunting camp the Golden Triangle Duck Club .  Last season our hunters took over 1000 birds in less than 40 days last season with 315,000 ducks wintering in the immediate Grand Pass Conservation Area and probably closer to 500,000 across the entire Missouri Golden Triangle region.
Where we Duck and Goose Hunt SE Missouri, we have Opening weekend and a space for up to three hunters on December 13 &14th, No other weekend dates are available. We do still have open weekday hunts available mostly in December.  Even though the Missouri specklebelly season opens on November 27th our hunters will get good chances at white-fronted geese.
We target ducks more than geese until December 25th, by then we will be hunting the Trophy adult specklebelly geese that winter in Missouri.  We currently only have January 16th, 17th & 18 – and the 20th – 25 open for our combo speck/duck hunting trips.
Join our mailing list and start receiving our special discounted hunt packages that we offer to those that subscribe to our listing!