Duck & Goose Hunting Articles, Hunting Tips and Waterfowl Recipes
We are very pleased to have the opportunity to share with you some our hunting articles, waterfowl recipes and our hunting tips & tricks. We have had the privilege to have written and published many of our articles on some of the internets finest waterfowl forums, blogs and article websites.
We hope that you find these Missouri hunting observations, goose hunting tips and waterfowl recipes as enjoyable as we have found them pleasurable to compose. If you have a favorite duck and goose recipe or a special waterfowl hunting tip you would wish to share, please feel free to submit it to us for review and possible addition to our pages.

---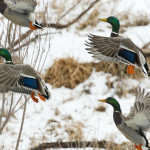 At the April 29 meeting, the Missouri Conservation Commission approved recommendations on hunting seasons and limits from the Missouri Department of Conservation (MDC) for the upcoming 2016 migratory game bird season and 2016-2017 waterfowl season.
The Missouri duck hunting season will be almost as last season was with little to no change.  Daily limit of 6 ducks with 18 in possession will remain the same and you can find the species limit breakdown and other hunting seasons at this Link.   Canada geese will remain at 3 & 9, Specklebelly geese at 2 & 6 and regular season Snow and Blue geese at 20 and no possession limits.
Missouri duck hunting north zone season will start on the last weekend in October on the 29th and end on December 27rd. The Missouri Middle zone will open November 5 and close on January 3, 2017 and lastly the South zone will open November 24 and close January 22nd.
Here are the Missouri changes that will effect goose hunters state wide; For the Missouri regular season both Snow Geese and White-Fronted Geese ( Specklebelly Geese) will now start November 11th and run until February 6th, 2017 allowing a 88 day season.  Limits remain the same with 20 Snows/Ross's geese with no possession limit and 2 Specklebelly geese per day the 6 in possession. The Light Goose Conservation Order will now open on February 7th and run until April 30th .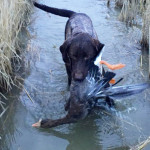 What will these changes mean for Show Me Snow Geese clients, we will continue to offer our duck hunting trips the same as usual except we will begin our Southeast Missouri specklebelly hunts  November 18th and on the 24th switch to our Combination duck/guided goose hunts where we will target ducks , specklebelly and snow geese. These season changes will also allow us to offer Canada goose at the golden triangle and specklebelly goose hunting in southeast Missouri until February 6th 2017.  These earlier and later hunts in Northern and in SE Missouri will be from pits, blinds and layout blinds, so hunters must notify us if they are unable to hunt from layouts.
We are currently taking reservations for the upcoming waterfowl season we only run 2 guided Duck or Speck/Canada goose hunting parties per day and a maximum of 3 spring snow goose hunts.   At this time we have at least one group opening every day for Duck or Specklebelly/Canada goose hunting.   For our Spring Snow Goose Hunting season we now have NO available hunts in NW Missouri from March 6th to 12th already.
Join our mailing list and start receiving our special discounted hunt packages that we offer to those that subscribe to our listing!