Duck & Goose Hunting Articles, Hunting Tips and Waterfowl Recipes
We are very pleased to have the opportunity to share with you some our hunting articles, waterfowl recipes and our hunting tips & tricks. We have had the privilege to have written and published many of our articles on some of the internets finest waterfowl forums, blogs and article websites.
We hope that you find these Missouri hunting observations, goose hunting tips and waterfowl recipes as enjoyable as we have found them pleasurable to compose. If you have a favorite duck and goose recipe or a special waterfowl hunting tip you would wish to share, please feel free to submit it to us for review and possible addition to our pages.

---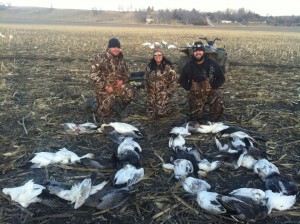 Missouri snow goose hunting is probably one of the toughest sports. You have to learn and develop your hunting skills – and it may take years to master many of these skills. Snow geese are clever and cagey, making them among the most difficult waterfowl to hunt. They are often seen in flocks that number in thousands and seldom decoy to groups that have less decoys than their flock. Goose-hunting is also very dependent on weather. At certain times, geese can't be found in places they usually frequent. Snow geese can be so unpredictable, and it is difficult to track them, let alone the exact field they can be found.
While there are lots of places claiming to have a great waterfowl hunting experience, Missouri is fast becoming the favorite for guided snow goose hunts. Each winter, well over four million snow geese migrate to Missouri. During the spring migration, hunting is even brighter during the spring snow goose conservation order. With a waterfowl hunting guide at your side and the right equipment on hand, you can have a successful hunt.
There are a number of areas in Northern Missouri, who offers the best guided snow goose hunts – the Swan Lake Refuge, Grand Pass CA, and Squaw Creek Refuge. Located some 120 miles away from Kansas City and can be easily located on a map, you wouldn't waste a single minute looking for these staging areas. If you are on a guided hunt, experienced guides will assist you to the exact staging grounds. Thus, you can spend your whole time hunting instead of searching for these geese.
The large area of the Lower Missouri River Basin, which covers almost half of Missouri, is the favorite staging ground for these geese. Majority of the wetlands that are now managed by duck hunting clubs can be found within Missouri's sub-basins. Several duck hunting clubs have also developed other areas and have set up duck attracting food plots. In fact, migratory birds have seen to be staging around these areas most of the regular season.
Snow geese are very tough to decoy, but with guided snow goose hunts, you can have a great hunting experience. Experienced guides and outfitters set up quality blinds and decoys. Outfitters are strategically positioned near the staging grounds to ensure that their hunters are on the optimum hunting grounds possible. Veteran and first-time hunters alike can gain useful information about the locations of the snow goose at different stages of the migration, as well as the finest equipment and the guides' firsthand knowledge. However, most important of all, guides and outfitters guarantee a safe hunting experience.
Guided snow goose hunts in Missouri are a perfect way to enjoy the outdoors. It is both a fun and challenging activity that you will certainly look forward to. Outfitters and their hunting guides will make sure you go home satisfied with the whole hunting experience.