Duck & Goose Hunting Articles, Hunting Tips and Waterfowl Recipes
We are very pleased to have the opportunity to share with you some our hunting articles, waterfowl recipes and our hunting tips & tricks. We have had the privilege to have written and published many of our articles on some of the internets finest waterfowl forums, blogs and article websites.
We hope that you find these Missouri hunting observations, goose hunting tips and waterfowl recipes as enjoyable as we have found them pleasurable to compose. If you have a favorite duck and goose recipe or a special waterfowl hunting tip you would wish to share, please feel free to submit it to us for review and possible addition to our pages.

---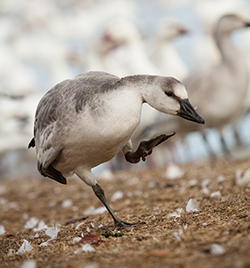 Hunting has always been one of the favorite hobbies of the people. There are hunters who prefer to hunt deer, rabbits, and bears. There are some that hunt reptiles and amphibians such as crocodiles and snakes.     However, one of the most popular hunts are guided spring snow goose hunts. While hunting might sound cruel, it actually balances the ecology since this bird seems to overpopulate. Hunters try to compare the hunting environment during the earlier days and now. There are several reasons why we can say that snow goose hunting in Missouri has become easier and yet challenging.
Newer Equipment and Methods
Missouri snow goose hunting was very different the earlier days. No scientific methods were employed on the hunt. The only equipment known to work were mouth calls, white paper plates for decoys, and white coats for camouflage. The main strategy used was the "sit and wait" technique.   The behavior of the snow geese in relation to weather and climate patterns were easy to predict.
Today, the hunt for snow geese has become modernized due to the advancement of technology. Newer equipment is available such as electronic calls.  Realistic windsocks are used to add life-like  motion on the hunt.  Full body decoys mimic the look of real geese and are very effective on the smarter birds of today.  Even with all the new equipment and easier it still requires many hours of trial and error when snow goose hunting in Missouri.
Experienced Guides and Outfitters
Guides and outfitters that are positioned near the best hunting grounds to provide support and information to the hunters.     First-time  hunters are informed about the proper hunting equipment and the locations of the snow goose during the different times during the day. Guided snow goose hunting in Missouri is really the best option for the novice in the sport of waterfowl hunting.    Guides and outfitters will ensure hunters not only of a great hunt, but a safe and accident-free  hunting experience. They also provide valuable insight and motivation during the times that the odds are against hunters. These people will provide full support until enough catch has been made.
Hunting Rules and Regulation
There are also several factors that made snow goose hunting in Missouri a challenge. One of these factors are the laws set by the government that regulate the hunting of waterfowl. These laws dictate the allowed season of hunting, and the means that a hunter can use to harvest game. An example of this law is the mandatory use of steel shot while hunting all waterfowl and setting daily bag limits.
Unpredictable Weather Changes
Although this factor does not apply all the time, weather changes alter the birds' behavior such as migrating and feeding.  Due to the ever-changing  spring weather, unexpected snows can slow or speed the rate at which the birds migrate back north. With all of these considerations in mind, a hunter must also bring some important characteristics such as patience, tolerance to certain inconveniences, and strong motivation to succeed in the field of snow goose hunting in Missouri.