Duck & Goose Hunting Articles, Hunting Tips and Waterfowl Recipes
We are very pleased to have the opportunity to share with you some our hunting articles, waterfowl recipes and our hunting tips & tricks. We have had the privilege to have written and published many of our articles on some of the internets finest waterfowl forums, blogs and article websites.
We hope that you find these Missouri hunting observations, goose hunting tips and waterfowl recipes as enjoyable as we have found them pleasurable to compose. If you have a favorite duck and goose recipe or a special waterfowl hunting tip you would wish to share, please feel free to submit it to us for review and possible addition to our pages.

---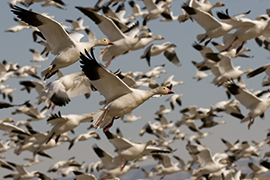 Missouri is world famous for operations that place you right under tornadoes of decoying snow geese. With thousands of acres of private grounds around some of the biggest snow geese refuges, Missouri provides you the perfect opportunity to enjoy this marvel of nature. The hunts occur in fields with well-concealed layout blinds that sit in the middle of a huge number of full-body and snow goose motion decoys. Some of the reasons for the ever-increasing popularity of the sport are listed below.
Offers and Packages
Missouri snow goose hunting season is a very popular annual hunting sport that many a hunting enthusiasts wait for anxiously. With many hunting guides coming out to offer packages and offers for the season, the hunters have limitless opportunities for success at exceptional locations.
Significant Waterfowl Migration Route
Snow goose hunting offers a great, fun filled experience for the aspiring and experienced hunters in areas such as northern Missouri that sees significant waterfowl migration each year. Another important location for duck and geese migration is south east Missouri which is another top choice for hunters in the state.
Guided  Hunting Expeditions
Hunters have the choice of deciding on the number of days they would wish to spend on hunting. Professional outfitters also organize the hunters into small hunting groups. Larger hunting groups can also be professionally handled, but it is recommended that a hunter register with the smaller groups due to the uninterrupted and focused attention they receive.
Because snow geese are very observant and cautious, the guided snow goose hunts help enhance the hunting experience. Veteran snow goose hunting staff team leaders are highly skilled and make sure that everything is in place for a successful hunt. This calls for ensuring that even the minutest of details from decoy placement to calling the shot is synchronized for the perfect kill.
Tips for a Successful Snow Goose Hunting Season
In order to experience the full excitement of snow goose hunting, one should be prepared to listen to their guides. Other tips include:
• While hunting, the more calls you make the better. It is always best to use two electronic calls together with your mouth call.
• Northwest Missouri is one of the best places for spring snow goose hunting.
• Most guides will use over 2,000 decoy geese, but if you are on your own, 400   decoys will do just fine.
• Always arrange the decoys in teardrop shape with the large side to one end the narrower at the other and your blind placed in the center.
• In the event geese are not coming your way, switch your clothes from white to camouflage and set yourself up about 100 yards downwind from your decoys.
• Always try to hunt in fields where birds were spotted the night before.
• Adding windsocks and flags introduces the element of movement to the decoy spread.
Some  hunters attach black and white balloons to poles and try for the same effect.
If you have never tried your hand at spring snow goose hunting, you should realize that a sizeable amount of work goes into the activity. It means laying out thousands of decoys, which can mean a significant amount of investment in terms of money and time. Working under an experienced outfitter can however, help you overcome such obstacles.