Duck & Goose Hunting Articles, Hunting Tips and Waterfowl Recipes
We are very pleased to have the opportunity to share with you some our hunting articles, waterfowl recipes and our hunting tips & tricks. We have had the privilege to have written and published many of our articles on some of the internets finest waterfowl forums, blogs and article websites.
We hope that you find these Missouri hunting observations, goose hunting tips and waterfowl recipes as enjoyable as we have found them pleasurable to compose. If you have a favorite duck and goose recipe or a special waterfowl hunting tip you would wish to share, please feel free to submit it to us for review and possible addition to our pages.

---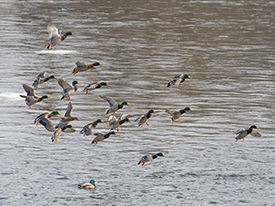 If you are looking for an activity that is more adventurous than bungee jumping and more challenging than rock climbing, then waterfowl hunting is the activity for you. Since the conservation order came into effect, waterfowl hunting has gained massive popularity. This fun and action-packed activity keeps hunters on their toes and excited.
Missouri Waterfowl Hunting
And when it comes to waterfowl hunting, there is no place like the Golden Triangle Duck Club in Missouri. It offers an unforgettable bird hunting experience to waterfowl hunters. In fact, Missouri is now being recognized as one of the best waterfowl hunting destinations in the US.
Here's why Missouri has earned this reputation:
Great Habitat for Waterfowl
Missouri has many great refuges for waterfowl, giving hunters outstanding hunting opportunities to bag ducks and have a wonderful experience. There are several locations in Missouri where you can spot thousands of waterfowl massed together.
Hunters are encouraged to Come Waterfowl Hunting
Since Missouri offers excellent habitat for birds, the population of some waterfowl has been  multiplying rapidly, which is posing a serious danger to the ecosystem and for the other wildlife communities that share the habitat with waterfowl.
Therefore, to reduce those waterfowl populations, hunters are encouraged to come here to hunt  by the Missouri Department of Conservation. The encouragement from the government and great hunting opportunities has made Missouri one of the most sought-after  places for waterfowl hunting. Hunters love to come to Missouri with friends and take home extraordinary memories.
Professional Missouri Hunting Clubs
Missouri has several professional hunting clubs that offer guided hunts to both novice and experienced hunters. These clubs are renowned and reliable offering full-scale of top of the line facilities to waterfowl hunters. Hunters don't have to worry about finding a good hunting location or getting decoys as the hunting clubs take care of all.
They also provide blinds and proper equipment to the hunters which spare them from the hassle of buying. Furthermore, you get to enjoy hunts with professional and experienced guides who provide valuable guidance and teach great hunting techniques so that you can get a good duck hunting score.
So, if you are ready to go on a duck hunt, then Missouri waterfowl hunting is perfect for you!