Duck & Goose Hunting Articles, Hunting Tips and Waterfowl Recipes
We are very pleased to have the opportunity to share with you some our hunting articles, waterfowl recipes and our hunting tips & tricks. We have had the privilege to have written and published many of our articles on some of the internets finest waterfowl forums, blogs and article websites.
We hope that you find these Missouri hunting observations, goose hunting tips and waterfowl recipes as enjoyable as we have found them pleasurable to compose. If you have a favorite duck and goose recipe or a special waterfowl hunting tip you would wish to share, please feel free to submit it to us for review and possible addition to our pages.

---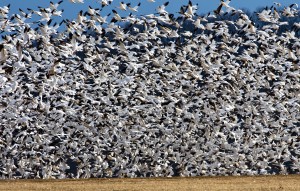 You may have hunted small game or birds before, but if you've never been on a Missouri spring snow goose hunting trip before, then it's time to rethink it! Unlike any other hunt you may have experienced, the sight of the spring snow goose migration itself can be a life changing experience. When one sees a blanket of white cover the skies, stretching for mile upon mile above, and as one witnesses a well choreographed dance to descent happening right before their eyes, that's when you wonder why you've never done this before!
The condensed spring migration makes snow goose hunting a much more effective time to hunt than the fall migration. The fresh masses of geese, taking to the Missouri skies, offers an ideal opportunity for individuals and groups to bag a plentiful harvest. Taking advantage of extended hunting hours, and making use of electronic calls to lure the flock and unplugged shot guns for the shoot, will make a spring hunt even more memorable.
While Missouri snow goose hunting is about ultimately bagging the prize that's been eluding you for a while, it's also about learning how to outfox the geese, and mastering the art of patience and cunning.  Spring snow geese are a crafty breed of waterfowl, and are known to adapt to changing circumstances. Their uncanny survival knack means hunters down below need to find innovative ways to decoy the flock above into decoying into gun range. And that's where the thrill of the hunt comes in.
Many hunters prefer to decoy prime flight areas along with huge spreads  of (2000 to 3000 decoys). Others will chase the feed runs daily using smaller spreads (300-600 decoys) in the hope of outsmarting the crafty flocks as they fly out to feed. Regardless of what spring snow goose hunting strategy the hunter uses, the very fact that there is a battle of wits going on, fills the event with excitement. It's something you'll never feel hunting small game.
But snow goose hunts are also more about the science that goes into making them a success, than about the simple art of decoying and shooting. The use of e-calling systems, realistic goose call recordings, and strategically placed PA systems shows how high-tech the hunt is. And there is an information component as well. Savvy hunters often rely upon intelligence from sources like Fish & Games Department and biologists and wild life experts to ensure success. Even local farmers, who have an intimate knowledge of their fields and the surrounding areas, are called in to cooperate in making the hunt a success.
For all of these diverse reasons, spring snow goose hunting is something savvy hunters look forward to participating in each season. And if you've never been on a Missouri spring snow goose hunt, then you really don't know what you're missing. Perhaps it's time to rethink it?