Duck & Goose Hunting Articles, Hunting Tips and Waterfowl Recipes
We are very pleased to have the opportunity to share with you some our hunting articles, waterfowl recipes and our hunting tips & tricks. We have had the privilege to have written and published many of our articles on some of the internets finest waterfowl forums, blogs and article websites.
We hope that you find these Missouri hunting observations, goose hunting tips and waterfowl recipes as enjoyable as we have found them pleasurable to compose. If you have a favorite duck and goose recipe or a special waterfowl hunting tip you would wish to share, please feel free to submit it to us for review and possible addition to our pages.

---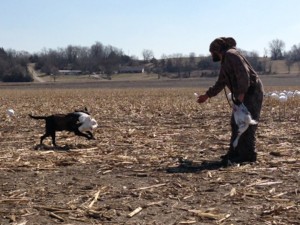 When the Missouri goose hunting season draws to an end, many dog owners decide it's time to sit back and relax. They feel that after a good harvesting season, it might be nice to rest and unwind – until next season. Well, just because the season is over, you shouldn't stop working with your dog. That way, come next season, you both will be ahead of the game!
Like any skill, practicing the hunting drill, with gun in hand and dog at heel, is a vital part of preparing yourself and your dog for the post "dark days" era. While in places like Arkansas and Missouri the goose hunting and waterfowl seasons are regulated by US Fisheries and Wildlife Services and other regulatory bodies, facts on the ground are different. The very next day from the close of one season, preparations begin for the next. And unless both hunter and dog are in prime condition to take advantage of the very first day of the new season, you both may miss out on some great opportunities.
During the intervening period, from the close of Missouri goose hunting season and the beginning of the next, even the waterfowl seem to take a rest. Their keen sense of survival is dulled slightly, since no one has been shooting at them during the "off season". While that might be a disadvantage for the birds come the start of the new season, it can be a huge advantage to hunters that are primed and ready for an early start.
Being prepared for an early season start means that, when you go out during the first several days of the season, you are more likely to harvest a larger number of birds than if you were to spend a few weeks getting ready for the season. By then, the ducks and geese have once again kicked in their survival instincts to evade even the best of decoy spreads.
In between Missouri goose hunting and the next waterfowl season, there's a lot that you can do to prime yourself and your dog for opening of the new season, including:
 Continued training drills with your dog. This will not only keep the dog in shape, but will also ensure he/she has not forgotten the skills that served you and it so well during the previous season
 Skeet shooting is a great way for you to sharpen your own instincts, hone your shooting skills and make sure your weapons are in peak working order as well
 You and your dog can Cross hunt, which means you are hunting a different species of bird or other wildlife. This is the next best thing to hunting waterfowl, but it gives you the opportunity to put many of the same skills through their paces
Just because the Missouri goose hunting season has come to an end doesn't mean there is not another one waiting just around the corner. So instead of remaining idle and letting you and your dogs skills rust away, it's good to stay active, in shape and be prepared.