Duck & Goose Hunting Articles, Hunting Tips and Waterfowl Recipes
We are very pleased to have the opportunity to share with you some our hunting articles, waterfowl recipes and our hunting tips & tricks. We have had the privilege to have written and published many of our articles on some of the internets finest waterfowl forums, blogs and article websites.
We hope that you find these Missouri hunting observations, goose hunting tips and waterfowl recipes as enjoyable as we have found them pleasurable to compose. If you have a favorite duck and goose recipe or a special waterfowl hunting tip you would wish to share, please feel free to submit it to us for review and possible addition to our pages.

---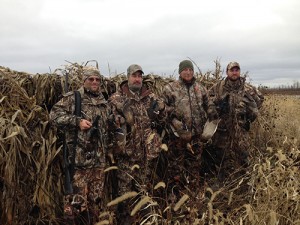 Missouri hunting clubs provide a safe and essential haven to conserve the natural habitat and healthy population of geese and ducks in the region and at the same time, provide ample opportunities to avid hunting parties. These clubs, headed by professionals and experts hunting guides, play a major role in safeguarding the number of waterfowl thriving in the region and the controlled circumstances also give rise to more birds and better hunting opportunities for years to come.
The Hunting Pressure – What's at Stake?
First of all, too much hunting and excessive human exposure can make waterfowl more educated and alert to being hunted. For example, they can become used to calling patterns and decoys, become nocturnal and more sensitive to their surroundings with each passing day. Furthermore, as most ducks become decoy shy around areas where they anticipate hunters to be present, they will most likely avoid coming out to feed at these regions during the daytime, thereby limiting the overall hunting possibilities down the road.
On the other hand, if the hunting pressure is managed, say by limiting the number of hunting parties allowed or number of hunting trips permitted every day, waterfowl will be more comfortable settling in and moving around and may also respond better to calling tactics used by hunters.
Advantages of Controlled Hunting at Missouri Hunting Clubs
Setting conditions for activity within these hunting clubs can make way for easier and more successful hunts. Limited hours and hunters actually is a better choice because the possibilities are maximized after a good resting period. Furthermore, it is best to limit human activity by Missouri hunting clubs when no WATERFOWL HUNTING is taking place so that the birds can rest, feed and move around freely without being disturbed.
A lot of Missouri hunting clubs have also restricted shell counts and shooting hours. Sky busting or unnecessary shooting inside the marsh can scare off waterfowl and make it difficult to get their attention and attract them even with the use of full body and motion decoys.
The main agenda behind these duck hunting clubs is to keep hunting possibilities uniform throughout the season rather than ending the entire thrill in just one day. The restricted pressure in hunting actually keeps geese and ducks around throughout the hunting season, which means more concentration of the birds and greater chances of a successful catch throughout the sunny summer!