Duck & Goose Hunting Articles, Hunting Tips and Waterfowl Recipes
We are very pleased to have the opportunity to share with you some our hunting articles, waterfowl recipes and our hunting tips & tricks. We have had the privilege to have written and published many of our articles on some of the internets finest waterfowl forums, blogs and article websites.
We hope that you find these Missouri hunting observations, goose hunting tips and waterfowl recipes as enjoyable as we have found them pleasurable to compose. If you have a favorite duck and goose recipe or a special waterfowl hunting tip you would wish to share, please feel free to submit it to us for review and possible addition to our pages.

---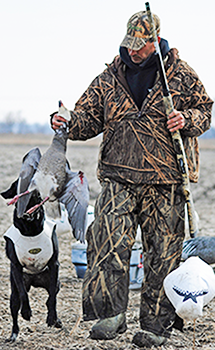 It's said, "practice makes man perfect"; similarly, when it comes to earning the reputation of being a professional Missouri snow goose and duck hunting guide, you need to practice, be passionate and put in inexorable efforts and prove your mettle. Missouri is one of the finest places to enjoy, experience and learn snow goose hunting. Thousands of snow geese tornadoing down into your spread is thrilling and adventurous. And what makes this experience double the fun is if you are a professional; then you can really get a bull's eye!
Professional Missouri Snow Goose Hunting Guides
To become a professional snow goose hunting guide especially in Missouri, you need to work hard. You can't become a professional overnight.
Wealth of Experience
It takes a wealth of experience to master the art of Missouri's goose hunting and get recognized as a professional in this field. From how to prepare a spring snow goose hunt to what are the best locations that offer hunters great hunting opportunities to how to use the terrain to your advantage and the optimum strategies that help your hunters bag their birds; it takes several years to learn all of this and become a professional guide. After all when people come to a Missouri snow goose hunting guide they want guidance and to have a mind-blowing hunting experience.
Spend Endless Hours in the Field to Sharpen Your Skills
To sharpen hunting skills, Missouri snow goose hunting guides have to spend endless hours in  cold, damp fields scouting, working with decoys and hunting.  Guides must learn how to pattern the birds and yes sometimes even out think them!
Bad Weather- A Limitation
The weather in Missouri can change in less than a moment; so, it's really a test of your ability to adapt and over come. Missouri's freezing cold, snow and rainy weather make spring challenging for hunters to bag there trophy geese. For this, you need to be patient.
Goose Hunt Knowledge Matters
For successful spring snow goose hunting, knowledge matters! As a Missouri snow goose hunting guide you need to have a complete knowledge not just about the best gear to wear during hunts but also about the optimum locations for your hunters and how the birds have been behaving. For example, Mississippi Flyway is one of the finest places for hunting waterfowl. As a professional, you need to know the reasons for it and the exact areas to take your hunters, so they can harvest their geese. Knowledge about where the snow geese have been feeding  is extremely vital because these birds move around a lot. This is because they are dictated by the weather and the need to feed more than anything else. And as the weather is totally unpredictable and can change at a moment's notice pushing the geese back to the south. As a professional guide, you must have knowledge of the areas and fields along the bird migratory routes so the hunters can enjoy their hunt and not go home empty handed.
So, if you are passionate about becoming a professional snow goose hunting guide in Missouri and ready to put in your best efforts, then go for it!
Good Luck!