Duck & Goose Hunting Articles, Hunting Tips and Waterfowl Recipes
We are very pleased to have the opportunity to share with you some our hunting articles, waterfowl recipes and our hunting tips & tricks. We have had the privilege to have written and published many of our articles on some of the internets finest waterfowl forums, blogs and article websites.
We hope that you find these Missouri hunting observations, goose hunting tips and waterfowl recipes as enjoyable as we have found them pleasurable to compose. If you have a favorite duck and goose recipe or a special waterfowl hunting tip you would wish to share, please feel free to submit it to us for review and possible addition to our pages.

---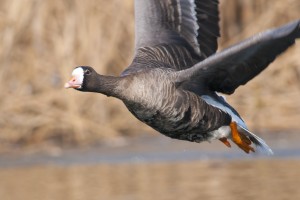 It does not matter how many ducks or what kinds you have taken in your life while hunting, without going after and bagging that one elusive trophy specklebelly goose (White-Fronted goose) you're missing out on a game changing opportunity.    In recent years the wintering population of lesser white-fronted geese have flourish from what was once a few hundred here and there to now many thousands wintering in southeast Missouri's agriculture rice rich landscape.
The professional specklebelly goose hunting guides of Show Me Snow Geese are time tested and proven experts in the field.   All of our guides are exceptional duck and goose callers with many years experience not only with the use of their game calls but their ability to read and understand what these trophy birds are looking for.
Our professional guides Armed with only the latest and greatest of equipment the likes of Dakota and Replica Decoy full bodies for when only the most realistic decoy will do.  Equality important are the layout blinds and pits that Show Me Snow Geese employs on our guided hunts insuring maximum comfort and concealment.
We have spent years scouring the back roads of Missouri looking for not only a place for our clients to hunt but for the best hunting grounds possible.  It's not enough to have a rice field or a water hole; our customers demand the best hunting grounds that we can find.  And that iswhat we put forward on all of our guided specklebelly goose hunting trips as well as each and every one of the other duck and goose hunting services that we offer.
What Can You Expect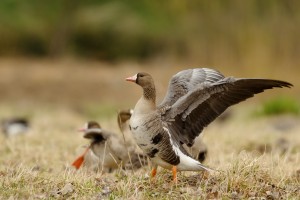 Once you arrive at your hunting location your professional goose hunting guide will meet with you to set a meeting time and place that will allow plenty of time before the next morning's hunt.    Once arriving at the hunt location your guide for the hunt will escort the hunters out to the field, where we have done all the hard work for you.  With blinds brushed and decoys set you can sit back and get set for the days hunt.
The expert hunting guides of Show Me Snow Geese will not just blow their calls but read the birds which take year of experience.  Knowing not only what goose sounds these geese want to hear but when to call and more importantly when not to call to the birds.  Just because the decoys and blinds have been set, knowing when and where equipment needs to be relocated in the event of a wind shift or clouding.  After all what good is having the best equipment and lands if it happens to be in the wrong spot.
We recommend that our customers bring their goose calls along on the hunt.  Although most times your guide will not require more callers but along with picking up ideas on decoy placement and insight in to reading the white-fronted goose, you can get some expert help with calling techniques and vocalizations.
So, how many specklebelly geese can you expect to shoot on a typical day? Most hunters expect to shoot there limit. While it's not out of the realm of possibility, you shouldn't expect it. On an excellent hunting day, you may harvest one to two birds your limit.  But luckily enough during our guided specklebelly goose hunts duck hunting season is in effect, so on an average day with 5 hunters, 15 to 30 birds aggregate between ducks and geese. On a bad day, 0-10 birds.
For the best chances of success, a guided duck and goose hunting trip is your best bet.   At Show Me Snow Geese, we offer premium guided goose hunting trips all throughout Missouri with experienced and seasoned hunting guides.