Duck & Goose Hunting Articles, Hunting Tips and Waterfowl Recipes
We are very pleased to have the opportunity to share with you some our hunting articles, waterfowl recipes and our hunting tips & tricks. We have had the privilege to have written and published many of our articles on some of the internets finest waterfowl forums, blogs and article websites.
We hope that you find these Missouri hunting observations, goose hunting tips and waterfowl recipes as enjoyable as we have found them pleasurable to compose. If you have a favorite duck and goose recipe or a special waterfowl hunting tip you would wish to share, please feel free to submit it to us for review and possible addition to our pages.

---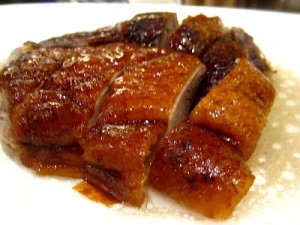 Here something a little different to try this after your successful hunting season, braised snow goose with red wine recipe.
In large,  Dutch oven or a heavy bottomed pot , melt butter over medium heat. Add onions and increase to be medium-high. Cook and stir until the onions are tender. Add goose pieces and brown each lightly. After the goose has been browned on all sides remove and set aside. Stir in flour to the onion mix. Then stir in the one cup of water, wine, brown sugar, cinnamon, allspice and salt. Add goose and raisins. Heat to boiling, reduce heat, cover and simmer over medium-low heat (do not boil hard) approximately 2 to 2 1/2 hours or until the goose, pieces are tender and easily come away from the bone. Turn pieces once during cooking. Add more water and wine if necessary to ensure adequate cooking liquid.
When the goose is tender, remove them from the broth and keep the meat warm, set in a warm oven. Using a ladle or large metal spoon, skim fat from top of broth. If you like a thicker sauce mix cornstarch with the cold water and stir into the sauce. Cook over medium heat, stirring constantly, until sauce is thickened and translucent. Pour sauce over snow goose on platter and serve over rice.
  1, 3- to 5-pound spring snow goose , with skin, cut into 8 portions: 2 wings, 2 breast pieces and 2 thighs
 1/2 cup butter
 1 cup sweet white onions, chopped
 3 T. flour • 1 cup water
 1 cup dry red wine, like Pinot Noir
 Additional water and red wine
 3 T. packed brown sugar
 1 tsp. cinnamon
 1/4 tsp. allspice
 1 1/2 tsp. salt
 1 1/2 cups raisins
 5 T. cornstarch
 1/3 cup cold water Preparation
Remember wild game requires less cooking than pen raised animals and are a much leaner meat.  If you wish to remove the skin prior to cooking you can, but you may wish to add fats such as butter or bacon to keep the meat from becoming too dry.  Plucking is more work, but it leaves the skin and fat intact.  This again is a little different snow goose recipe but this one deserves o a try it's worth it, especially if you have had some successful snow goose hunts this season.