Duck & Goose Hunting Articles, Hunting Tips and Waterfowl Recipes
We are very pleased to have the opportunity to share with you some our hunting articles, waterfowl recipes and our hunting tips & tricks. We have had the privilege to have written and published many of our articles on some of the internets finest waterfowl forums, blogs and article websites.
We hope that you find these Missouri hunting observations, goose hunting tips and waterfowl recipes as enjoyable as we have found them pleasurable to compose. If you have a favorite duck and goose recipe or a special waterfowl hunting tip you would wish to share, please feel free to submit it to us for review and possible addition to our pages.

---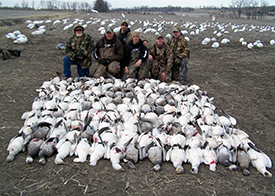 One of the biggest decisions a hunter has to make is whether to go on a snow goose hunt on his own or hire a Missouri snow goose hunting guide. However, if you enjoy goose hunting and taking part in the sport as a hobby or just starting out, it is crucial that you acquire the skills. One of the best ways to acquire the skills needed is by joining a snow goose hunt. These types of hunts can be beneficial as they offer the perfect chance to gain knowledge as well as acquire some field experience with the guidance of experts.
Guided trips are not an easy way to get out of hunting; you still have to hunt, and you get to reap the following benefits by working with the experts who know where the birds are.
Knowledge of the Best Hunting Fields
Many people will travel from all over the United States to Missouri for snow goose hunting. Once they arrive at their destination, they expect to go out to the fields and start shooting the first bird they see. However, goose hunting is not as simple as that, and chances are high that you will fail terribly should you try this. With a professionally run guided hunt with an outfitter, you can be assured that they know the best fields. Most guides working in such outfits have an in-depth understanding of the area due to the many years they have been in this line of business.
Facilities
Not only is their knowledge valuable to you, but the facilities and services they offer as well. Goose hunting requires setting between 800 and 1500 decoys to ensure that geese are attracted to a field. For an individual to purchase this amount of decoys, represents an unwise purchase on their part, most especially because the equipment will only be used for a few days every year.
The guides have the decoys, and all other equipment required to ensure a bountiful harvest. Furthermore, they have the experience on how to set the decoys such that they will attract the migrating snow geese. They also know the best time to call for a shot by reading the birds' movements.
Higher Chances of Success
Hiring a guide will offer you a greater chance of getting a excellent harvest. Good guides will lead you to the best private fields where; through experience, he can accurately identify the flight path of the geese since he has intricate knowledge of their behavioral patterns.
Convenience
While guides provide different types of services, you should expect them to get you in and out of the hunting field, assist you in handling harvested game and cleaning your snow geese.
Learning Experience
The professional guide will also teach you plenty. This includes everything from what calls work, how to shoot for maximal efficiency to retrieving downed birds and many other important tactics and strategies.
There is no definitive answer to the question; it is a personal decision that you will have to make before every hunt. However, when thinking about a hunt, consider a guided Missouri goose hunt since it is more convenient and offers you better odds at a successful harvest.