Duck & Goose Hunting Articles, Hunting Tips and Waterfowl Recipes
We are very pleased to have the opportunity to share with you some our hunting articles, waterfowl recipes and our hunting tips & tricks. We have had the privilege to have written and published many of our articles on some of the internets finest waterfowl forums, blogs and article websites.
We hope that you find these Missouri hunting observations, goose hunting tips and waterfowl recipes as enjoyable as we have found them pleasurable to compose. If you have a favorite duck and goose recipe or a special waterfowl hunting tip you would wish to share, please feel free to submit it to us for review and possible addition to our pages.

---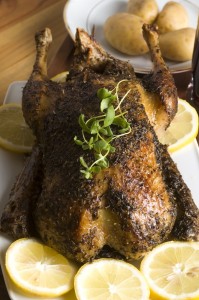 You might not have every tried this one but smoked Specklebelly goose is very good if done correctly.   When think about smoking a goose, a low temperature, slow roasting is just what a goose needs to let the fat drain without it turning dry and over cooked. It also helps to make the meat tender and flavorful.   The advantages of smoking a White-Fronted over other geese are it is a smaller goose and a much better tasting bird as well; many refer to them as the rib eye of the sky and defiantly one of my favorites at the dinner table.
After you have completely plucked your goose, you may find that some down and other pin feathers still need removing.   If you have access to paraffin, you can dip your goose before dressing and peel the paraffin that will remove the remaining feathers.   If you do not, then go ahead clean and dress you specklebelly goose.  I have found that by using a small propane soldering torch and quickly grazing the goose with the open flame you can remove most if not all the fine down, and feathers left after plucking.  After that wash and pat down the cleaned and dressed goose.
Ingredients:
 1  Specklebelly goose
 1 tablespoon sage
 1 tablespoon celery salt
 1 tablespoon black pepper
 1/2 tablespoon salt
 cheese cloth, soaked in water
Prepare smoker, now I prefer apple or cherry wood chunks but any good flavorful wood will work.  Remember to pre soak your wood so that it does not just burn up. Expect the cooking time to be about 30 minutes per pound. Wash inside and out and pat dry the goose with paper towels. Mix seasonings and rub over the inside and out of the goose. Here is where you can get a little creative by stuffing your goose with ingredients like cooked wild rice and even pealed apples. By doing so you will transfer some of the flavor into  your goose as it slowly cooks making it really pop at the dinner table.
Wrap the stuffed goose in wet cheese cloth and place in a smoker with a foil pan underneath to catch the drippings. After about 1 hour remove the cheese cloth. Baste with juices from pan and continue smoking and basting until the internal temperature reaches 165 degrees.  Service with the wild rice you had stuffed the bird with other sides some good beer and savor that meal  wi th friends while recounting that specklebelly goose hunting adventure.