Duck & Goose Hunting Articles, Hunting Tips and Waterfowl Recipes
We are very pleased to have the opportunity to share with you some our hunting articles, waterfowl recipes and our hunting tips & tricks. We have had the privilege to have written and published many of our articles on some of the internets finest waterfowl forums, blogs and article websites.
We hope that you find these Missouri hunting observations, goose hunting tips and waterfowl recipes as enjoyable as we have found them pleasurable to compose. If you have a favorite duck and goose recipe or a special waterfowl hunting tip you would wish to share, please feel free to submit it to us for review and possible addition to our pages.

---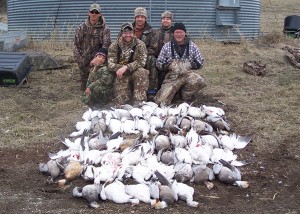 Hunting has been one of the favorite sports of mankind for ages, and snow goose hunting is fast becoming the much loved practice for the hunting aficionados in North America. With people tired of pheasant and upland hunting, snow goose hunting the toughest of the waterfowl hunting genus, is rapidly climbing the popularity charts for it provides an extra kick and adrenaline rush for ardent hunters.
Missouri has been one of the favorable destinations for snow geese hunting, and is being continually flocked by the hunting fanatics for the perfect hunt. Spring snow goose hunting opens up new challenges for veteran hunters as snow geese are weary and have become accustomed to the calling and the decoys. This new level of stimulation lures people from all over the country and the world to test their skills to the core, go for snow goose hunting expeditions.
So how do you bring down the snow geese despite all the challenges? The answer with the aid of experienced of the goose hunting outfitters and guides who are well aware of the surroundings and tricks that can prove fruitful for your hunting sprees.
A knowledgeable guide is particularly well aware of the backdrops and optimally outfitted with the latest equipments that can guarantee you great hunting experience. Weather plays a major part in deciding the geese's paths, whereabouts and how best to decoy them on any given day.
Despite all this, hunting snow geese's in spring is more of an art that has been learned by experimentation along with many hours and days of trial and error, yet it still features the old fashioned ways of hunting with patience and perseverance that play a crucial role in getting those prized trophy birds.
The worst feeling for a hunter is to return home with an empty bag, but assisted by the skills of guides and their technical knowhow and a variety of their quality equipment, every expedition may yield desired results. At Showmesnowgeese.com we offer variety of packages for snow geese and waterfowl hunting. So, gear up for the spring season and join us on a hunt and an exhilarating snows goose hunting experience.