Duck & Goose Hunting Articles, Hunting Tips and Waterfowl Recipes
We are very pleased to have the opportunity to share with you some our hunting articles, waterfowl recipes and our hunting tips & tricks. We have had the privilege to have written and published many of our articles on some of the internets finest waterfowl forums, blogs and article websites.
We hope that you find these Missouri hunting observations, goose hunting tips and waterfowl recipes as enjoyable as we have found them pleasurable to compose. If you have a favorite duck and goose recipe or a special waterfowl hunting tip you would wish to share, please feel free to submit it to us for review and possible addition to our pages.

---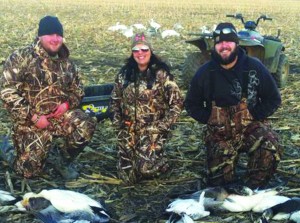 You did not read that wrong, more and more women are heading out to get their boots dirty, so to speak. Look at any hunting group and you are now just as likely to see a woman shouldering a shotgun and joining in on a snow goose hunt as you are. And before you shake your head, guess what… We need these women out there hunting because hunter numbers have been falling across the board!
According to StarTribune.com, nationwide numbers dropped by over 25 percent during the five-year period of 2001 to 2006. There are numerous reasons for this drop, but the important thing to realize here is that we need more people in our corner to keep waterfowl hunting alive and well for many years to come.
Now, while overall numbers are down, the number of "outdoor" women has shown a dramatic climb in recent years. Why? Just like the men, they enjoy the opportunity to bond with their friends and/or family members as well as spending more time with the dogs in their natural environment. Sparkie is much happier out there retrieving waterfowl than he is chasing around a tennis ball!
As a way to encourage women, many outdoor organizations are holding special events to encourage them to become more involved in hunting. For example, the Tennessee Wildlife Resources Agency offers off season workshops for women. Not to be left out, our own Missouri Department of Conservation holds a multi-day outdoor workshop for women. Some of the courses offered related to hunting are:
Archery
Basic Hunting
Introduction to Firearms
Map and Compass
Shotgun Shooting
Now, as a male hunter, you may be shaking your head, resisting the change. Give in buddy, because this is a trend that is going to continue. Instead of resisting, embrace it and use this as a way to make your trips more enjoyable. We are not trying to say that this will be for every woman or girl, but for those that do enjoy it, it provides an opportunity for fathers to bond with daughters as well as a way for couples to enjoy a different kind of vacation.
Introducing Your First-Time  Hunter to the Sport of Snow Goose Hunts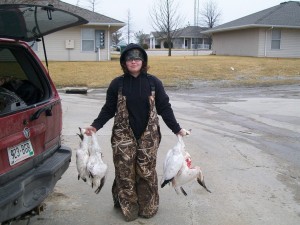 Now that you are ready to take your wife or daughter on a snow goose hunt, you need to go back to basics for them and make sure they are ready for the conditions and the actual hunting experience. Just in case you forgot, we have put together a few reminders on what the wife and daughter need to practice to enjoy their trip.
 Clothing – conditions can be harsh, so make sure they are dressed properly. What you find comfortable in the swamp is not necessarily what they will like or want to wear. Female fashion may be a bit out of your realm, so do some research and find out what the best items are for female duck hunters and then go shopping.
 Shooting – a duck hunt is not the place to fire a weapon for the first time, obviously. Take her out to a target range to get comfortable with the weapon and then graduate her to some skeet or clay pigeon shooting. She will need to learn how to hit a moving target, and this is the best way to practice the mount as well as actually hitting a moving duck.
 The Dog – your dog has a very specific role when he or she is hunting, and it is not the family pet. This is not playtime. In fact, your dog will probably be more businesslike than a first-time  hunter. It is easy to revert to wanting to play with the dog when it gets boring out there, but this can obviously not happen. When you are doing practice drills with the dog during the off season, let your daughter or wife join you and actually help run the drills so everyone is comfortable with their role when you are snow goose hunting.
Skybusting – it is very easy to get excited when you are going out for the first time and see your first flock. However, work on recognizing range so she is not firing when the ducks or geese are too far out. Many people have not seen waterfowl up close and do not realize these birds are actually pretty big. It might be good to take her on a scouting trip prior, so she can recognize when the birds are actually in the kill zone versus wasting shells at a bird that is too far away to hit. A nice trick is to place your furthest decoy at the kill zone range and work with them on recognizing when the bird passes over that area. This will not only make your trip more bountiful, but it will also prevent upsetting other nearby hunters.