Duck & Goose Hunting Articles, Hunting Tips and Waterfowl Recipes
We are very pleased to have the opportunity to share with you some our hunting articles, waterfowl recipes and our hunting tips & tricks. We have had the privilege to have written and published many of our articles on some of the internets finest waterfowl forums, blogs and article websites.
We hope that you find these Missouri hunting observations, goose hunting tips and waterfowl recipes as enjoyable as we have found them pleasurable to compose. If you have a favorite duck and goose recipe or a special waterfowl hunting tip you would wish to share, please feel free to submit it to us for review and possible addition to our pages.

---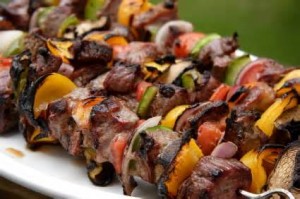 After a successful snow goose hunting season were always on the lookout for new and good ways to cook our snow geese, and of course, we are happy to share our favorite snow goose recipes.
Before we get started let just go over meat preparation, after you have breasted out your geese it is very important to remove all the blood, feathers and shot.   One of the best ways to do all of these at the same time is to mix ¾ cup of kosher salt with gallon warm water in a bowl.   Place the meat in the bowl and knead the meat, the kneading helps dislodges any feathers that were taken into the meat along with the shoot when harvesting the geese.  At the same time, you are kneading you are also working a large portion of the blood out of the meat, once the water has a large amount of blood in it remove the meat and replace bloody water with fresh salted cold water.   Continue this process until water remains clear and no more feathers or shot is on or in the meat.
At this point, you have clean water logged soft meat, with paper towels pat dry the snow goose breast and in a Tupperware container place, a few sheets of paper towels on the bottom and cover the paper towels with your meat.   After one layer of meat place another paper towel and another layer of meat repeat until you have used all the meat and seal with the air-tight lid and refrigerate overnight to allow meat to drain and firm up.
 ¾ cups Kosher Salt
 2 Lb = 4 or 5 snow goose breast
 15 TBS Kikkoman Soy Sauce
 6 TBS Brown Sugar
 6 Tsp Minced Garlic
 1 & 1/4 TSP Cayenne Pepper
  green bell peppers cut in to 1 1/2 pieces
 fresh mushrooms cut in to 1 1/2 pieces
 potatoes cut in to 1 1/2 inch cubes
 onion cut in to 1 1/2 inch pieces
 cherry tomatoes
Remove the meat and discard the wet paper towels now cut your breast meat into 1 1/2" cubes or there about.  Mix the soy sauce, brown sugar, minced garlic & cayenne pepper into a zip-lock bag and add your meat.  Remove as much air as you can and knead the bag with meat in it then place in the refrigerator for three to four hours.  Remove the meat and shake off extra marinate wrap a small piece of bacon around the snow goose meat and skewer meat alternating between meat, green bell peppers, fresh mushrooms, potatoes and cherry tomatoes.
If using bamboo skewers soak in water for two hours first so they do not burn up.   Lightly oil the grill grate before cooking then place skewered snow goose kabobs on grill, cook until the pieces of bacon look done about 10 to 15 minutes depending on how hot your fire is.  Once your Kabobs are done sit back and enjoy with friends and family and a cold beer, hope you enjoy this snow goose recipe as much as we do.