Duck & Goose Hunting Articles, Hunting Tips and Waterfowl Recipes
We are very pleased to have the opportunity to share with you some our hunting articles, waterfowl recipes and our hunting tips & tricks. We have had the privilege to have written and published many of our articles on some of the internets finest waterfowl forums, blogs and article websites.
We hope that you find these Missouri hunting observations, goose hunting tips and waterfowl recipes as enjoyable as we have found them pleasurable to compose. If you have a favorite duck and goose recipe or a special waterfowl hunting tip you would wish to share, please feel free to submit it to us for review and possible addition to our pages.

---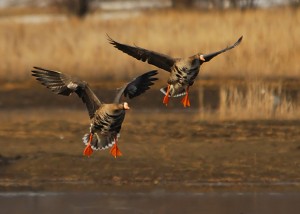 The midcontinent Specklebelly Goose breeds from the Alaska across the western and central Canadian Arctic.  In the fall, they congregate in western Saskatchewan and eastern Alberta, spending several weeks feeding before migrating down to their wintering areas.   They feed during the winter on waste grains that remain after farmers have harvested the crop fields. Hunters regard the Specklebelly Goose as a prized trophy.  Hunters consider the meat to be much in taste and more desirable than other species of waterfowl, including the Canada goose. They are wary and react more frequently to human presence than other species, and hunters make involved preparations for hunting with an extensive use of decoys.
Location Is Important
Location is among the most important Specklebelly Goose calling tips. Specklebelly Geese will continue to return to feeding areas that have sufficient food until the supply has been exhausted. Therefore, it is critical to find a few fields where they feed. A typical pattern for this species is to roost in one location and feed in nearby fields.  They will often feed in a field and deplete the food supply before moving to another field, unless they have been harassed relentlessly, so securing multiple fields is a must.
Presentation is critical
Successful Specklebelly hunts can require an extensive amount of preparation. Once an active feeding field has been secured one must consider wind direction, speed and weather conditions; the Geese will usually approach from downwind.  After determining these factor's decoy types and numbers adjusted to resemble a feeding flock of geese. In many instances snow geese will be found feeding with or in close proximity in those cases, decoys can be set to resemble a flock of feeding Snow Geese with separate family groups of Specklebelly geese off to the sides.   Spacing in between these family groups is a key element leaving these spaces will allow the birds to land in close proximity while Specklebelly Goose Calling other good tips are to have hunters positioned under cover in camouflaged layout blinds.
Some movement in the decoys seems to improve the chances of drawing in flocks.  Hunters can use windsock decoys to define the downwind side; however, many successful hunters add movement to the decoys such as goose flags to gain the attention of distant flocks as well as flying decoys that resemble landing geese.
Calling the Specklebelly Goose
Specklebelly Geese have a distinctive high-pitched sound; to some it resembles children's laughter. When calling it is essential to remember pitch, using both high and low tones to call. Hunters need to learn how to read the birds.
Here are some Specklebelly Goose calling tips to help bring flocks to the decoys' field are as follows: When geese are already coming to the decoys there is no reason to call to the geese in an aggressive manor. If the geese begin to veer off then call to the geese using the two note two-note yodel, made by saying "wa-wa, wa-wa…" communicating to the geese tiring to start a communicating between the live birds and the caller.Once the geese are closer hunters can then switch to a feed call which is done with a low tone two note grunting that sound like ka-luk. These short grunts sounds resemble sounds of the flock when actively feeding.
Using these Specklebelly calling tips, learning how to read the birds, proper scouting, decoy placement and use.   Hunters can easily increase their harvest of these highly priced trophy geese on your next Missouri duck and goose hunting trip.