Duck & Goose Hunting Articles, Hunting Tips and Waterfowl Recipes
We are very pleased to have the opportunity to share with you some our hunting articles, waterfowl recipes and our hunting tips & tricks. We have had the privilege to have written and published many of our articles on some of the internets finest waterfowl forums, blogs and article websites.
We hope that you find these Missouri hunting observations, goose hunting tips and waterfowl recipes as enjoyable as we have found them pleasurable to compose. If you have a favorite duck and goose recipe or a special waterfowl hunting tip you would wish to share, please feel free to submit it to us for review and possible addition to our pages.

---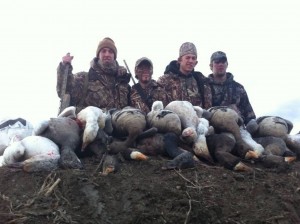 Southeastern Missouri has been a duck and Specklebelly Goose Hunting paradise for bird hunters for many years now. This part of SE Missouri extends south of 36°30' north latitude, and is fondly known as the "Missouri Bootheel" because it's shape on a map resembles that of a boot's heel. However, the Bootheel is not sought after by bird hunters because of its looks. It is a place that's exploding with a large variety of waterfowl, and that brings great anticipation to bird hunters from all over.
Hunting waterfowl in wetlands and rivers across most of the Midwest, that only have a limited variety of birds, or attract flocks just for a fleeting moment, means many hunters might go home without that prized trophy. It also means hunters might need to be extra patient, or hunt much longer in order to have a successful outing. But SE Missouri changes all of that.
A Missouri goose hunting trip offers sportsmen a rare opportunity to harvest a number of waterfowl, including Snow and Blue geese, in addition to the much sought-after Specklebelly Goose hunting as well as duck hunting. This means that the Bootheel offers waterfowl hunters spectacular opportunities that aren't  found  in abundance across Midwest. And because of its unique geography, it gives hunters a much later waterfowl hunting season to indulge in their sport and pastime of choice. And that only means that more hunters are likely to go back with that trophy duck or goose!
This explosion in waterfowl population rivals that seen in bird havens like Stuttgart, Ark. And what makes SE Missouri the goose hunting destination of choice is its geography,  milder winters and modern farming practices- which has put it right in the center of the birds' migratory path, both southward bound and when headed back to their breading grounds. In addition, droughts and water level depletion in Arkansas's Alluvial Aquifer makes that less of an attractive sanctuary for White-Fronted geese than SE Missouri.
Hunters prefer SE Missouri for duck and goose hunts also because of the expanding food supply that the rice fields in the Bootheel offer to migrating flocks. The Missouri Department of Conservation has spent considerable time, effort and money developing 3 major waterfowl management areas amongst surrounding rice fields – including Coon Island, 10 Mile Pond and Otter Slough. These fields serve as a major attraction to flocks of Snows, Blues and Specklebelly geese. And when they descend on harvested rice fields by the thousands, to graze on the harvest leftovers, they offer excellent hunting opportunities for waterfowl hunters.
A Missouri specklebelly goose hunting trip also offers several options for shooting the bird of one's choice. Thanks to the endless variety of waterfowl habitat that SE Missouri possesses, hunters may opt for pit blind hunting, rice field hunts or might choose to hunt in layout boats. Whatever method of hunt is chosen though, the sheer number and variety of birds that use the "Mississippi Flyway" as their migratory route north and south, means there will always be plenty of opportunities and certainty for enjoying shooting success.