Duck & Goose Hunting Articles, Hunting Tips and Waterfowl Recipes
We are very pleased to have the opportunity to share with you some our hunting articles, waterfowl recipes and our hunting tips & tricks. We have had the privilege to have written and published many of our articles on some of the internets finest waterfowl forums, blogs and article websites.
We hope that you find these Missouri hunting observations, goose hunting tips and waterfowl recipes as enjoyable as we have found them pleasurable to compose. If you have a favorite duck and goose recipe or a special waterfowl hunting tip you would wish to share, please feel free to submit it to us for review and possible addition to our pages.

---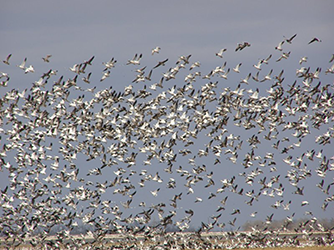 The best thing about spring for a waterfowl hunter has to be spring snow goose hunting. Even when you're not actively hunting the geese, you'll find yourself staying out longer than you would if you were hunting other game. Sitting back and watching flock after flock, which can add up to thousands of snow geese; fly past is an awe inspiring sight you'll never grow tired of.
Snow geese seem to be a bit smarter and a bit warier than other types of waterfowl. According to many Missouri hunting guides, snow geese quickly figure out that they're in the middle of a hunting season and will grow cautious. The sheer numbers and additional caution makes them a bit more challenging, and increases the amount of pleasure you will get from bagging that trophy snow goose while hunting Missouri in the spring.
One of the mistakes many new goose hunters make the first time they come to Missouri to hunt spring geese is seeing the massive numbers and assuming that they will find a place to hunt easily. Seasoned hunters who have enjoyed spring snow goose hunting for years have learned that finding flying snow geese can be easy to spot. But learning where the same snow geese will land is much more challenging.  Most professional Missouri goose hunting guides will have already made arrangements with farmers for the better hunting lands.
Geese love to feed on harvested farm fields where they can find spilled corn, soybean and other crops. It's important to make sure that you know the surrounding areas well enough to know when you're on the correct farmer's land, and when you're about to trespass on someone else's property.  Hunters new to spring goose hunting in Missouri, may want to get with a group of hunters so there is help in gaining permission to hunt on farms in the region.
During the fall hunting season in Missouri there's usually a good amount of brush that you can use to help conceal yourself. One of the challenges you'll face when you start hunting during the spring snow goose hunting season will be the lack of abundant cover. Hunting blinds that are made out of material designed to look like the surrounding landscape will be another good choice but brushing will still be required.
Once you've selected the place you think will be a great place for spring snow goose hunting, you need to set up your decoys in a way that looks natural, and will encourage the migrating snow geese to land. You want to make sure you wait until the birds have decoyed close enough that they are in range of your shot, so you can cleanly take the trophy snow goose you've work so hard for.