Duck & Goose Hunting Articles, Hunting Tips and Waterfowl Recipes
We are very pleased to have the opportunity to share with you some our hunting articles, waterfowl recipes and our hunting tips & tricks. We have had the privilege to have written and published many of our articles on some of the internets finest waterfowl forums, blogs and article websites.
We hope that you find these Missouri hunting observations, goose hunting tips and waterfowl recipes as enjoyable as we have found them pleasurable to compose. If you have a favorite duck and goose recipe or a special waterfowl hunting tip you would wish to share, please feel free to submit it to us for review and possible addition to our pages.

---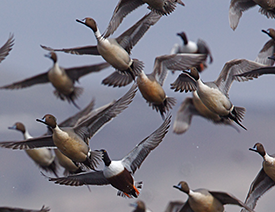 The south east Missouri duck and goose hunting season is one of the most awaited hunting events of every hardcore waterfowl hunter. Everyone who has a passion for hunting knows that Missouri is one of the best places to hunt ducks and geese. With a later hunting season, large wintering populations, and the abundance of flooded crop lands, Missouri is surely a hunter's haven.  The challenge now is to know where exactly in Missouri a hunter can find the best hunting spot. The answer is: in the south east. Here are the reasons why a waterfowl hunter who embarks on a Missouri guided hunt should prefer heading south.
Shorter Travel Distance for Migratory Birds
Given that southeast Missouri area is full of places where birds can settle in such as rice fields, conservation areas, streams and rivers, it is also located in the Mississippi flyway. This means that all the migratory birds fly across this area. When ducks and geese find this place, there is no need to travel any further south.   Once there they can just settle into  this area after having flown long miles from the north. These birds will stay in this area until spring, thus making southeast Missouri the perfect Missouri duck hunting location.
Many Types of Duck Hunting are Available
The hunting grounds in southeast Missouri makes it the perfect Missouri duck hunting spot for any preference of hunting style. Due to the number of rice fields, the place is suitable for rice field hunting. The abundance of rivers makes it perfect for boat hunts. Pit blinds are also plentiful throughout the area where ardent hunters can set up their decoys and other hunting equipment. Be it unguided or guided hunts, the area is very suitable for all methods of Missouri's duck hunting experience.
Experienced Guides and Outfitters
The area is not only abundant with ducks and prime hunting location; it also has experienced local hunting guides and outfitters. Hunters will not have to spend a lot of time searching for the roosting places of the birds. The guides will lead clients directly to the perfect hunting spots and relay to the hunters the behavior of the birds. These guides teach the proper timing for a shot and the proper set-up of equipment. They are apt on any type of waterfowl hunting method. Outfitters will provide information on the proper equipment to use and the location of the birds, making the Missouri duck hunting experience the best.
Future Potential
Southeast Missouri is projected to increase in popularity as duck hunting spot as the years go by. Outfitters that are very familiar to the area will attract a lot of novice hunters. The expansion of rice fields due to the expansion within the rice industry will attract even more ducks and geese. With longer hunting seasons, cheaper license fees, and other flexibilities in state hunting laws will continue to make Missouri duck hunting even more popular. There may come a time that Missouri will become the duck-hunting capital of the Midwest. Even the sport of waterfowl hunting in the area is expected to improve and get better in the long run.