Duck & Goose Hunting Articles, Hunting Tips and Waterfowl Recipes
We are very pleased to have the opportunity to share with you some our hunting articles, waterfowl recipes and our hunting tips & tricks. We have had the privilege to have written and published many of our articles on some of the internets finest waterfowl forums, blogs and article websites.
We hope that you find these Missouri hunting observations, goose hunting tips and waterfowl recipes as enjoyable as we have found them pleasurable to compose. If you have a favorite duck and goose recipe or a special waterfowl hunting tip you would wish to share, please feel free to submit it to us for review and possible addition to our pages.

---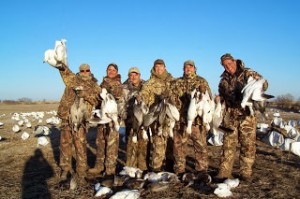 If you are a waterfowl hunter and you are tired of not finding the birds you want, you might want to come to Missouri for some great snow goose hunting. Many people don't know it but Missouri has some of the best areas for hunting geese.
By going to Missouri many waterfowl hunters actually get to extend their seasons. Instead of stopping in mid December they can still use their decoys and other equipment to bag several snow geese during the Missouri spring snow goose hunting season.
Getting a Missouri spring hunting permit is cheaper than in most places and there are no spring snow goose limits during this extended season. This means that not only do you get to save money but you can use your cunning and skill to find the snow geese. They can provide quite a challenge for the avid waterfowl hunter.
Missouri is also a great place to come during the spring season because our fuel prices are among of the lowest in the country during that time of year which is later winter and early spring. These are all good reasons why you should plan a trip to Missouri for spring snow goose hunting.
One of the reasons why you can get so many geese in Missouri is because they winter and stage here during the migration north. Another reason is because of the Conservation Order that allows you to get as many birds as possible in an effort to reduce snow goose breeding numbers. It is not uncommon for a group of hunters to get 40 birds or more depending on their skill and the conditions at the time of year.
Much of the snow goose hunting happens in Southeast Missouri and if you haven't been there before or haven't hunted snow geese before you might consider going with a guide the first time.
The advantage of using a guide is that they know where to find the geese in large numbers and they know exactly what to do in order to bag them. Since there can be thousands of geese available under there right conditions a guide may help you stop from being overwhelmed and flock shooting causing you to bag fewer geese.
As more people find out about Missouri's spring hunting season, it is becoming a very popular place to hunt especially for people in other states where their waterfowl season is over or they do not have the snow geese.
If you like the taste of the waterfowl you will love the taste of snow geese. There are a variety of recipes online that many people have published to help people cook and enjoy eating this delicacy.
Another reason to hunt snow geese is because you will get a little fitness as you go. In order to get the most of your trip you will have to move around a lot. This gets the circulation moving and keeps you focused on what you are doing. All of these advantages can have you going home a successful hunter.
Some of the most popular areas to hunt are near Squaw Creek National Wildlife Refuge, and Southeastern Missouri near the Arkansas Border. Whether you are an experience hunter or new to it, a trip to Missouri during the spring snow goose hunting season will get you hooked.