Duck & Goose Hunting Articles, Hunting Tips and Waterfowl Recipes
We are very pleased to have the opportunity to share with you some our hunting articles, waterfowl recipes and our hunting tips & tricks. We have had the privilege to have written and published many of our articles on some of the internets finest waterfowl forums, blogs and article websites.
We hope that you find these Missouri hunting observations, goose hunting tips and waterfowl recipes as enjoyable as we have found them pleasurable to compose. If you have a favorite duck and goose recipe or a special waterfowl hunting tip you would wish to share, please feel free to submit it to us for review and possible addition to our pages.

---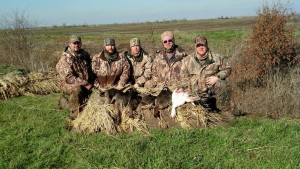 For many moons, the area of Stuttgart in Arkansas has been well-known to be a prime area for duck hunting in Mid-Western regions. However, in recent years, the region of Southeast Missouri has begun to rival Stuttgart as a favored spot for waterfowl hunters. This is due to many reasons, though the primary reasons are based on simple geography. The water levels in Arkansas are being depleted along the Alluvial Aquifer and this is causing depletion in White-Fronted geese and other waterfowl. As an added bonus, rice production is rising at a steady rate in Southeast Missouri and because of this; the population for Snow geese and White Fronted geese among other waterfowl is expanding at an astonishing rate. These factors combined prove for successful guided duck and specklebelly goose hunting trips of the waterfowl in Southeast Missouri.
Southeast Missouri is now a favored location for Missouri goose hunts due to its location along common geese migration routes around what is known as the Mississippi flyway. Southeast Missouri is home to many rivers, as well as a number of conservation areas, and an abundance of rice fields. Because of this, speckle belly geese and snow geese have no reason to travel any farther as they migrate south. The basin in Southeast Missouri is an ideal habitat for the white fronted geese and snow geese to refuel in the rice fields after they have been migrating south for extended periods. Many species of waterfowl in fact have found the Southeast Missouri basin a superior habitat when it comes to retiring for the winter, and awaiting the spring migration back North.
This alone has made the hunt for waterfowl and Missouri goose hunts a favorite past-time for the residents of Southeast Missouri. Guided hunting trips are excellent ways for even the novice hunter to seek the exhilaration and joy of a waterfowl hunt in Missouri. An even better advantage for the novice hunter is the fact that with the expanding white fronted geese population, comes an increase in the daily bag limit for today's waterfowl hunter in Southeast Missouri.
Many different kinds of Missouri goose hunts are available in the Southeast Missouri basin. You will find waterfowl hunting in many different forms including rice field hunts, pit blinds, and layout boat hunting choices to ensure any of your Missouri goose hunts are successful. Southeast Missouri also has the advantage of a longer season of hunting giving each hunter from the novice to the experienced hunter an outstanding experience in Missouri goose hunts.
Specklebelly goose hunting and snow geese hunting in Missouri can be undertaken through guided hunting trips as well. These guided hunting trips will ensure that you have the proper equipment and that you know where to find these elusive waterfowl. Guided hunting trips will lead you directly to the area of population, and will assure that your hunt for the white fronted geese is both enjoyable and productive. You will also learn how to bag your hunt properly, and how to get the most out of your hunting experience. You will save time searching for your waterfowl, and will be guaranteed a hunt that you will never forget. If you enjoy the experience, use the information you glean from guided hunting trips to visit again on your own and experience the thrill of Missouri goose hunts.
Missouri goose hunts and hunting waterfowl in Southeast Missouri is a sport and a past-time that is getting better with every passing year. With the increase in rice production, more rice fields are cropping up every season. With the rise in the number of rice fields, more white fronted geese and other waterfowl are being attracted to these areas when it comes to finding a place to settle for the winter. If you want to ensure successful Missouri goose hunts, go where the population is, and hunt your waterfowl in Southeast Missouri.