Duck & Goose Hunting Articles, Hunting Tips and Waterfowl Recipes
We are very pleased to have the opportunity to share with you some our hunting articles, waterfowl recipes and our hunting tips & tricks. We have had the privilege to have written and published many of our articles on some of the internets finest waterfowl forums, blogs and article websites.
We hope that you find these Missouri hunting observations, goose hunting tips and waterfowl recipes as enjoyable as we have found them pleasurable to compose. If you have a favorite duck and goose recipe or a special waterfowl hunting tip you would wish to share, please feel free to submit it to us for review and possible addition to our pages.

---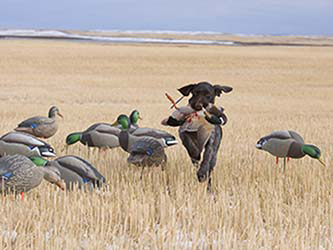 Every good waterfowl hunter knows that a good dog makes all the difference in the world. Not only will they retrieve the birds for you, but a good dog will also learn how to scan the sky and will often identify ducks and geese before you do. Getting a great duck hunting companion takes a lot of time and effort.
The first thing you need to do will be to choose the right one. The odds of you finding the right dog in an animal shelter are slim to none. You're going to want to talk to reputable breeders and to duck hunters. Take full advantage of what the breeders have to tell you. They will help you choose the puppy that will fit into your family, be a great hunting companion, and be the kind of dog all of your buddies will envy.
Prepare to spend lots of time with your new puppy. Not only is it not fair to expect them to spend all of their time in a crate, but it won't create the kind of bond that you need if they're going to be a successful duck hunting partner. In addition to bonding with them, you need to make sure they get plenty of exercise. By getting them outside for runs and play sessions their body will develop properly and be less prone to injury that often sideline good hunting dogs during the duck hunting season.
You need to be realistic about your ability to train the dog yourself. If you've never worked with a water dog before, you shouldn't expect to handle the training on your own. It's in both yours and your dog's best interest to work closely with a trainer. Really listen to what the trainer has to say.The best time to start working with the trainer will be shortly after you bring your new puppy home. Even though your dog won't yet have the mental ability to start serious training, the games that you play with them will hone their natural retrieving instincts.
Don't assume that just because your dog is going to be a duck hunting dog,  they don't need to be obedient. They do. From a young age they should be able to stay in a crate for a period of time and sit quietly when they're told. A high energy, undisciplined dog won't be any fun on a duck hunt and can also be a hazard to you as well as them self's.
Get your dog socialized. In addition to meeting many of different people, they also need to spend time working with other hunting dogs. Socializing them early on means they won't get overexcited during hunting season or worse start fights with the other hunting dogs.
You can't expect your dog to perform well during waterfowl season if they're not in shape. Several months before the season begins create a work and diet regimen that will have them in tip-top shape when it's time to hunt. While hunting, make sure you up their calorie intake so they remain the correct weight to perform their duties and stay healthy for many years of duck hunting.