Duck & Goose Hunting Articles, Hunting Tips and Waterfowl Recipes
We are very pleased to have the opportunity to share with you some our hunting articles, waterfowl recipes and our hunting tips & tricks. We have had the privilege to have written and published many of our articles on some of the internets finest waterfowl forums, blogs and article websites.
We hope that you find these Missouri hunting observations, goose hunting tips and waterfowl recipes as enjoyable as we have found them pleasurable to compose. If you have a favorite duck and goose recipe or a special waterfowl hunting tip you would wish to share, please feel free to submit it to us for review and possible addition to our pages.

---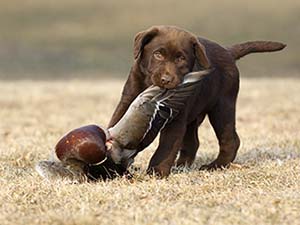 Snow goose hunts are some of the most challenging and enjoyable hunts you can do. Shooting in the cold weather is not ideal but what makes hunter get so excited and want gear up for the spring snow goose hunting season is the extended shooting hours and no bag limits. The longer shooting hours give hunters good opportunities to set their spread and bag large numbers of snow geese. Many snow goose hunters take their four-legged hunting companion with them.  Many have been professionally trained to fetch downed waterfowl from the freezing water or from a far distance and retrieve it back to the hunter. If you have been thinking about participating during the spring snow goose hunting season.  Now is the time to start training your retriever so that by the time the season begins, your dog is ready to help you with your goose hunt!
Ideas to get your Hunting Dog Ready
To get started, here are some tips that you should keep in mind when training your hunting dog:
1. Start Early
It's always best to start early.   If you have a hunting dog that is adolescent and has only ever retrieved bumpers and small duck, introduce them to larges goose sized dummies. The sight and weight of bigger birds can be a little tricky for junior dogs at first.  By practicing with heaver bumpers in the off season when the dog is a pup, they become proficient by hunt time.
2. Use Simple Commands
When you are spring snow goose hunting with your pup, you must have good coordination and communication.  After all, you don't want the dog getting confused it will be hard enough the first time; don't complicate it. Therefore, use your basic dog commands like sit, stay, down, fetch and back.
3. Reward your Dog
To ensure positive reinforcement always reward your dog.  With praise or a pat on the head when it responds correctly.
4. Training is a Matter of Repetition.
Training a spring snow goose hunting dog requires months or work. Therefore, you must learn to be patient and keep repeating drills and commands so that to the pup, it becomes second nature.
5. Train to identify birds
You must make your hunting dog differentiate between a decoy and an actual goose. You need to introduce the dog to the smell of waterfowl and recognize at sight. The easy way to do this is to use live birds that have clipped wings.  If you have even a fair dog once they have been introduced, they will always want the real bird.
6. Exposure to the Climate
Make sure the dog has become exposed to the environmental conditions prevailing during the hunting seasons. This is because the dogs are usually trained during the off season which is different from the season when the actual hunt begins. Make sure your dog adapts to the climate, maybe even get an all-white dog vest to help keep him warm. To ensure there are no surprises for the dog, before your spring snow goose hunting trip look for some farm ground to practice on before the hunting season and get his pads toughened up.