Duck & Goose Hunting Articles, Hunting Tips and Waterfowl Recipes
We are very pleased to have the opportunity to share with you some our hunting articles, waterfowl recipes and our hunting tips & tricks. We have had the privilege to have written and published many of our articles on some of the internets finest waterfowl forums, blogs and article websites.
We hope that you find these Missouri hunting observations, goose hunting tips and waterfowl recipes as enjoyable as we have found them pleasurable to compose. If you have a favorite duck and goose recipe or a special waterfowl hunting tip you would wish to share, please feel free to submit it to us for review and possible addition to our pages.

---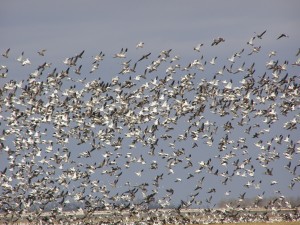 Snow Goose Hunting Season is about to Begin
We are just a few weeks away from the beginning of Missouri snow goose hunting season and hunters could not be more excited. With the spring snow goose season kicking off in February, hunters are booking trips and searching the Internet for the best places to hunt. Well, look no further, because SE Missouri is by far one of the best places in the United States to hunt these waterfowl.
Why Do Snow Geese Love Missouri
In case you did not know, snow geese are what we like to call "grubbers." During the spring migration , the abundance of rice fields in Missouri makes for the perfect feeding grounds for this beautiful bird. In addition to rice, snow geese also enjoy feasting on roots and all the goodies found in the marsh, all of which are plentiful in this area.
Another consideration is the fact that Missouri is right in the middle of the migratory route the birds take every season. For almost two months, hunters in this area see an abundance of snow geese. While it may seem like a staggering and unbelievable figure, there are literally been millions of geese in this area during this time. If you cannot bag a good number of geese with this type of exposure, maybe you should take up a new sport!
Get the Most Out of Your Snow Goose Hunting Trip
Whether you are a first time hunter or an experienced hunter that has struggled with results over the years, we think we have put together some great tips that will help to make your next trip more enjoyable as well as helping you bag some snow geese.
• The first step in any hunt is going to be to scout the grounds where you plan on hunting. See where the geese are feeding and check the abundance of food in the area. Geese are habitual and will return to grounds as long as there is food and there is no danger.
• Do not park anywhere near the area where you are setting up your blind. You want to make sure all signs of human life are well hidden from the geese. They may be creatures of habit, but they are also very smart birds. If they suspect something is wrong, they will avoid the area, even if they have been feeding there for days. It would be wise to scout the entire area beforehand, not just where you set up, for items such as  food wrappers, and water bottles. Police the area so there is not a single sign anyone has been or is there.
• Use a lot of high-quality decoys. You need to get the birds attention when they are flying by and a realistic, plentiful spread will do the trick.
• Remember that movement also attracts the birds, so motion decoys  and flags are a nice addition to a spread.
• You want the birds to finish in the kill zone, so set up your decoys and caller keeping this in mind. The closer you have the birds when the first shots are fired, the better chance everyone has of bagging their birds.
• Patience, Patience, Patience. As we said earlier, these birds are intelligent, so it may take some time to decoy them. If you lose your patience, create movement, or shoot too early, you are going to ruin your trip.
Some Final Things to Consider before Your Snow Goose Hunting Trip
If you are a first time hunter or new to the sport, you need to make sure you are proficient with your equipment. Out in the field is not the best time to experiment with a new shotgun. Take the time to practice beforehand so you can use your weapon confidently. It may seem like a silly idea to head to the range in your hunting gear, but believe me, this will pay off when the time comes to shoot under live fire conditions.
When unable to land a trip with experienced friends or on plentiful grounds, consider a guided spring snow goose hunting trip. The obvious benefit is that you can take advantage of the experience the guides have in the sport. Added benefits are using their equipment and dogs. While the trip will obviously have some type of fee, it will be far less than investing in all of this equipment on your own.
The season is almost here and you can decide to go the same old places or head to Southeast Missouri for some real snow goose hunting. We boast plenty of fields and more importantly, plenty of geese for everyone!