Duck & Goose Hunting Articles, Hunting Tips and Waterfowl Recipes
We are very pleased to have the opportunity to share with you some our hunting articles, waterfowl recipes and our hunting tips & tricks. We have had the privilege to have written and published many of our articles on some of the internets finest waterfowl forums, blogs and article websites.
We hope that you find these Missouri hunting observations, goose hunting tips and waterfowl recipes as enjoyable as we have found them pleasurable to compose. If you have a favorite duck and goose recipe or a special waterfowl hunting tip you would wish to share, please feel free to submit it to us for review and possible addition to our pages.

---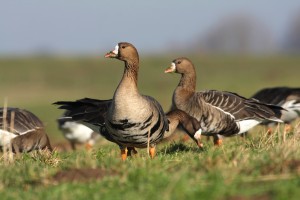 If you want to master the art and science of hunting the white-fronted goose which is nicknamed, "the Specklebelly" (due to the distinctive black patterns which are found on the breasts of mature birds!), you'll find that choosing a guided hunt is the smartest and most enjoyable method of honing your skills, fast.
You'll love being out in the great outdoors as your expert guide shows you the best way to find, observe and hunt these fascinating, feathered creatures.
Without a guide by your side, you may lack the knowledge, skills and savvy which are needed in order to enjoy successful Specklebelly Goose hunting. Luckily, there are wonderful guided hunt services available.
When you choose Show Me Snow Geese, which operates in southeast Missouri, you'll be choosing experience and affordability.
First off, you should know that a guided hunt will make things easier for you. You'll be led by an expert who is warm, friendly and as passionate about goose hunting as you are! Your guide will take care of plenty of details for you, so that you can focus on developing and/or using your Specklebelly Goose hunting skills while you're out in the picturesque and tranquil Missouri rice fields.
At Show Me Snow Geese, our guided hunts are conducted during December and January. Our company's hunting pros bring fourteen years of experience to the table and this is why our company receives excellent reviews…as well as plenty of repeat business!
We provide the most professional services and our services are delivered with the most positive attitude. We want your hunt to be enjoyable, so we go the extra mile in order to make certain that you are happy at all times!
Get More Out of the Winter Months!
If you never shy away from the cold and you love being outside in the winter months, you'll be a perfect candidate for a Show Me Snow Geese guided hunt. After all, winter is "prime time" for Specklebelly Goose hunting and it always has been!
Whether you're a newbie, an intermediate or an expert goose hunter, you'll find that choosing a guided hunt experience helps you to make the most of the famous "Mississippi flyway"!
In case you don't already know, forty percent of water birds move through this "flyway" while they are migrating. We're talking about tens of thousands of waterfowl! In particular, geese love the area because it's filled with rice fields. These fields provide welcome nutrition and taste to hungry Specklebelly geese!
It's safe to say that every Specklebelly Goose loves to feed in rice fields and this is yet another reason why so many of these birds are found in the region during the migration season.
What You Will Experience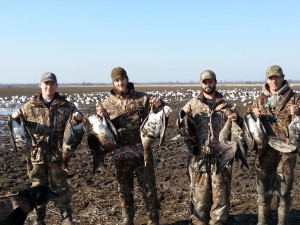 At Show Me Snow Geese, we cater to a wide range of clientele from many walks of life. Some people who choose a guided hunt experience have never gone hunting before, while others have been hunting geese for decades. Others have varying levels of hunting skill and experience.
No matter what level of experience these hunters have, we know via customer feedback that they come to us because we provide them with access to the most superlative hunting ground in the "Show Me State".
As well, you should know that our team members know exactly how to set up the sorts of decoy spreads that really get results. Naturally, they also know the proper sounds to imamate when calling to the birds, so they are able to lure Specklebelly Geese with ease.
If your goose calling needs some work, you'll enjoy learning from these patient and friendly experts!
In terms of how things operate, you should know that up to five people may attend a guided hunt. If you book a whole group of five, you may bring your pup or hunting dog along (if you have one), providing he or she is properly trained and well-behaved!
For those who prefer to hunt solo, we provide another type of service which is very practical and very reasonably-priced. This service allows solo hunters to access seasonal leases near our prime hunting grounds. These spots do fill up quickly, so it's important to book early if you're interested in this sensible option!
Why Not Book a Hunt Today?
Now is the right time to book a guided hunt through our company. When you do book early, you'll avoid disappointment and you may expect to do very well on your hunt! All of our efforts are centered on giving you the environment, care and support that you will need in order to succeed.
We want you to come home with as many geese as possible and this is why we've created services which are designed to make that result a very strong possibility.
A guided hunt will also be such a great way to relax and forget about the cares and pressures of the "real world". Out in nature, you'll feel free and you'll enjoy performing the pleasant and time-honored rituals which are part and parcel of goose hunting.
You deserve a guided hunting getaway, so why not reach out today? We look forward to hearing from you.