Duck & Goose Hunting Articles, Hunting Tips and Waterfowl Recipes
We are very pleased to have the opportunity to share with you some our hunting articles, waterfowl recipes and our hunting tips & tricks. We have had the privilege to have written and published many of our articles on some of the internets finest waterfowl forums, blogs and article websites.
We hope that you find these Missouri hunting observations, goose hunting tips and waterfowl recipes as enjoyable as we have found them pleasurable to compose. If you have a favorite duck and goose recipe or a special waterfowl hunting tip you would wish to share, please feel free to submit it to us for review and possible addition to our pages.

---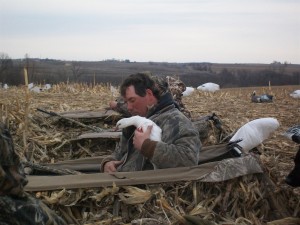 As a waterfowl hunter you are going to make decisions on a great many things form when to where to go but picking the correct layout blind for late season goose hunts can be a daunting task with so many on the market. There are layout blinds designed for almost any style or situation a hunter may face but you need to find the right one for you. In picking the correct blind for your needs, one of the first things to take in to consideration in your own physical make up. Everyone is different and so blind makers have produced many variations to suite most hunter.
If you are very tall a longer blind may be needed like the Final Approach pro guide XL blind that is 90″ in length, this is one of the longest blinds on the market today. If on the other hand your in the market for a young hunters blind you would probably want something like the Avery youth Finisher blind that is Scaled to 75% the size of standard Finisher blind, yet still has all the same features as the full size version.
In some cases your concern might be in storage and easy of mobility, due to lack of transportation space to and from the hunt or you may need to physically carry your blind for long distances. In those circumstances A long blind that does not fold compactly, is hefty or is just bulky and hard carry just wont due. In those cases a fiber glass coffin style blind that weights over 29 pounds like the Otter Predator would not be the right choice. Instead one that might be ideal would be the Tanglefree back pack blind that is light weight and easy to carry and easily folds from a decoy bag to a layout blind.
Other considerations might be waterproof due to waterfowl hunting in wet or slightly flooded field. For those with that in mind an Avery power hunter although light weight and over 6ft 8″ in length would not be the blind of choice. One that would be right might be the Final Approach Top gun blind that is constructed with a bottom section made from double strength, 100% waterproof Dry Cell material that is 4″ high.
May be your needs are you have a hard time getting up form a lay down position. In that case a Hunters Specialties Hitman layout blind even though it folds up and is light weight and easy to carry you're still on a prone position. The right blind for you might just be that haybale blind, that is light weight and breaks down for transportation yet sets up to 68″ L x 63″ W x 59″ H and you can shot from a sitting or standing position.
Most manufactures now days offer all of there blind in a wide variation of camouflage patterns with the field brown or Kaki color being the lowest in price. All can be used in almost any outdoor setting once the blind has been mudded and brushed. Now day's hunters can accomplish brushing their blinds with either natural vegetation or artificial grasses that blend in with many different setting.
Lastly is the cost factor now days with the internet it is easy to find the lowest prices and as long as you order over the internet and the supplier is in a different state you can save on the taxes, but take in to consideration shipping fees and time in transit.
Keep in mind while looking for a supplier many goose hunting outfitters now carry hunting decoys as well as blinds. These companies are an excellent source of information about different products after all they us them in a more demanding environment than most hunters will be in threw out the hunting season. Ask if this is what they use after all there business demands a quality product that can be counted on day in and day out. There is a multitude of waterfowl hunting blinds available to us hunters now days and we have covered the most important of these to be considered while you looking for your next hunting blind.