Duck & Goose Hunting Articles, Hunting Tips and Waterfowl Recipes
We are very pleased to have the opportunity to share with you some our hunting articles, waterfowl recipes and our hunting tips & tricks. We have had the privilege to have written and published many of our articles on some of the internets finest waterfowl forums, blogs and article websites.
We hope that you find these Missouri hunting observations, goose hunting tips and waterfowl recipes as enjoyable as we have found them pleasurable to compose. If you have a favorite duck and goose recipe or a special waterfowl hunting tip you would wish to share, please feel free to submit it to us for review and possible addition to our pages.

---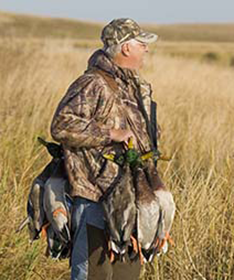 If you are looking for that thrilling and an adventurous hunting activity in Missouri, then you should definitely go duck and goose hunt in south east Missouri! The fall season is here. It's the peak of migration and the perfect time for hunters to enjoy hunting greenheads, pintails and other ducks. Because of the large variety of hunting ground and thousands of migrating waterfowl including puddle and diving ducks, Missouri duck hunting has become extremely popular among both novice and advance hunters. To experience the excitement and the adrenaline rush for yourself; purchase a Missouri waterfowl hunting permit, gear up and get ready to make those ducks quack!
Gear Up For a Successful Duck Hunt Trip
Remember hunters, ducks are clever and they can sense 'danger' from a distance. Therefore, to attract and hunt ducks successfully, you need to be properly equipped and camouflaged like you're not there. Here are some essentials that you must-have before you step in the field for duck hunting:
Shotgun
First things first- get a shotgun! A 10 or a 12 gauge shotgun is ideal for Missouri duck hunting . They both have good range and give you the ability to target waterfowl at a good distance. You may also find a 20 gauge shotgun on the market. This can also be a very good youth waterfowl gun but only if it is loaded nontoxic shot. A 20 gauge shotgun can restrict your range and the amount of shot being delivered.
 Blinds
This can be your best bet to bring down a good number of ducks. It is a cover device that you camouflage so that the ducks don't spot you before they get within range. Some hunting blinds are permanent while others are portable. These also come in a variety of designs like box blinds for duck hunting out off the shore or pit blinds in flooded crop fields. You can use the pit blind to submerge below the ground level and hide at the water level and shoot waterfowl with ease.
Decoy and Duck Calls
When you go Missouri duck hunting, don't forget to carry plenty of decoys and a duck call. A  decoy is an artificial duck that can be placed in the water or at the water's edge to attract nearby birds. You can also use a duck call to mimic the sounds they produce to help attract these birds in the wild.
Fantastic Sites for Duck Hunting in Missouri
Once you are geared up, now it's show time. Find a location that offers you good duck hunting opportunities. For this you can get in touch with a duck hunting guide in Missouri or you can also join a duck hunting club.
So, what are you waiting for? Let the fun begin!