ShowMeSnowGeese.com – Golden Triangle Duck Club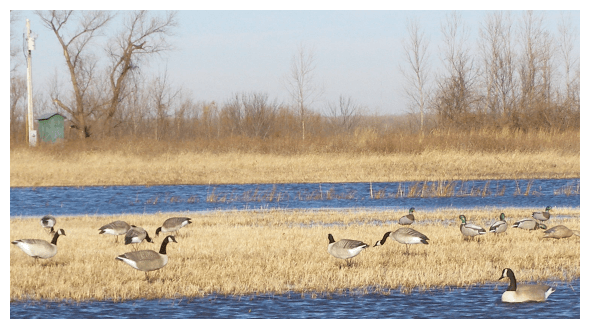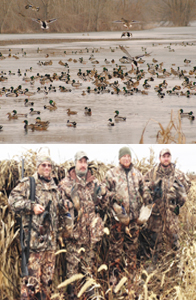 If you have been doing guided duck hunts with Show Me Snow Geese, you already know the thrill of bagging a trophy duck during the season. However, we realize that every now and again, even the most successful of our clients likes to try something different. This is exactly why SMSG is excited about our latest acquisition, the Golden Triangle Duck Club.
As many of you may or may not know, the Mississippi Flyway is the hotbed of goose hunting during the migratory season. With the Golden Triangle Duck Club being located right in the heart of the flyway, this duck hunting club was the perfect addition to one of our many properties. Now, clients that have been with us since the very beginning can experience something completely new while still enjoying the successful hunts that SMSG has become known for in Missouri.
What Does the Golden Triangle Offer Hunters?
For starters, the area offers exciting new terrain for our hunters. The new property offers both dry field duck hunts as well as flooded crop duck hunting. There is literally something for everyone here. An added bonus is that this waterfowl hunting club also offers a significant population of pheasants. And before you ask, yes, you can bag your limit during pheasant season if you so desire.
What Is the Golden Triangle?
Remember the movie Willie Wonka and the Chocolate Factory? Willie offered a Golden Ticket to a few lucky children to see his chocolate factory and it was the prized ticket in the entire world. Well, you are all grown up now and for hunters, this specific area of land is considered the Golden Triangle, meaning you will probably see more waterfowl here than in any other area of Missouri and the surrounding hunting grounds.
Areas covered in Golden Triangle are:
 Swan Lake National Wildlife Refuge
 Fountain Grove Conservation Area
 Grand Pass Conservation Area
 Dalton Cutoff
 Missouri River
Just how many waterfowl pass through this area? In a normal year, we probably see about 150,000 ducks. However, recently, we have seen a significant increase during the height of the migration season. In fact, just last year (December 2013), the area saw over 300,000 ducks! Simply put, you will be hard pressed to find any area across the country that offers such an abundance of waterfowl during hunting season. Now do you understand why it is the "Golden Triangle" of duck hunting?
To ensure that these numbers continue, we are lucky enough to have one of the top Missouri duck hunting club managers to advise us on our crop management and planning. We go to great pains to ensure our fields are liberally planted with corn, buckwheat, millet, sorghum, and soybean. The fields are also stocked with natural foods, like smartweed, to ensure enough food for the massive amounts of waterfowl that will pass through the area. In other words, there is just as much food for the last goose of the season as there is the first!
What Do We Need to Bring on a Guided Duck Hunt?
First, you will need to secure your own lodging. Unfortunately, Show Me Snow Geese does not offer lodging at this time. However, we have secured discounted rates with many of the local facilities. Just give us a call or shoot us an email and we will pass this information on to you. Obviously, you will need to make your own dining arrangements as well.
As far as your actual hunting goes, just bring your shotgun, ammunition, and camouflage because we take care of all the calling and decoy spreads on the trip. We exclusively use Dakota Duck and Canada Goose decoys making up our floating decoys and Higdon , Avery , Blue Collar -Duck & Dakota, Avian X  and Avery -Goose full body decoys. You will be comfortably set up in our low profile blinds , our heated dry field hunting pits or layout blinds.
It is understandable that you may want to take your shot at calling, but you should know that we have competitive duck callers and professional caller makers as some of our guides. With the success of the trip at risk, you are much better off leaving the calling to our guides and learning from them rather than risking making a mistake that could ruin the hunt for everyone.
We also understand that you may want to bring your own dog with you, but unless your group fills the entire group of five, we ask that you leave your pup home and let our dogs take care of the retrievals. As you can probably understand, if we allowed every hunter to bring their own dog, it could be mass chaos out in the field. But, if you do the fill the entire group, we would love you to bring your dog with you. We just ask that the dog is properly trained and well behaved on the hunts.
For the hunters wishing to do the entire Missouri duck hunting  experience on their own,  we offer two-day  unguided duck hunting at the Golden Triangle club.   Due to our limiting, the number of hunting parties to one per day at the duck club, these unguided duck hunts are for a maximum of five hunters and are a flat cost per two-day  duck hunt and your dog is welcome no matter how many hunt.
So, are you ready to experience the waterfowl hunting club trip of your life? What are you waiting for? Pick up that phone and give us a call today! Or, take a few minutes and browse the rest of our site to see all of the guided and unguided duck hunting trips offered by Show Me Snow Geese.