ShowMeSnowGeese.com – Golden Triangle Duck Club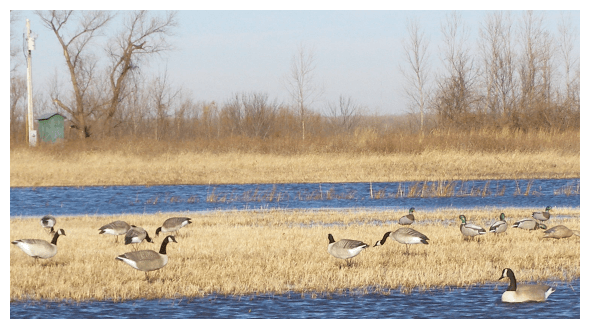 Golden Triangle Duck Club, a duck hunting club in Missouri offers thrilling experience to clients and entirely different hunting terrain.
The Golden Triangle Duck Club is one of our newest waterfowl hunting properties located in the heart of Missouri. This new duck and goose hunting facility will offer our existing clients a new and completely different hunting terrain as well as allowing hunters more hunting opportunities and earlier in the central north part of Missouri extending the waterfowl season. While we do not offer Pheasant hunting, our property does have a good population of pheasants and our hunters are allowed to take legal limits during the Missouri pheasant hunting season if the opportunity arises during your visit to our duck hunting club, The Golden Triangle Duck Club.
The Golden Triangle Duck Club is located in the North central Missouri in an area referred to as the Golden Triangle by many waterfowl hunters, due to the staggering number of Ducks and Geese this region holds each season. This triangular area contains many important waterfowl areas, Swan Lake National Wildlife Refuge and Fountain Grove Conservation Area to the north along with Grand Pass Conservation area, the Dalton Cutoff and Missouri River forming the lower portions of this triangular area. Conveniently located less than 2 hours from the Kansas City, Missouri's airport and only 3 hours from the St. Louis Airport to the east and minutes north of Highway I-70, Grand Pass Conservation and the Golden Triangle Duck Club are just south of the Missouri River near the City of Marshall in Miami Missouri. Typically 150,000 ducks visit Grand Pass during the fall migration but have had peaks of over 215,000 ducks and just this past December, 2012 held up to 190,000 ducks on the area, no wonder this area is called by so many Missouri's Golden Triangle of waterfowl hunting.
Electric pumps and Ice Eaters have been installed to maintain ideal water levels and open water during the coldest parts of the hunting season. Using comfortable low profile blinds and layout style blinds for our field hunting opportunities over large spreads of Dakota, Tanglefree, and Avery floating, full body goose and duck decoys. Our guides are some of the best in the industry and excel at their calling ability, rightly so as some are professional call makers and competition callers in the off season. We also get advice from one of Missouri's top duck club managers to help with the planning, moist soil and crop management. Along with our dry fields in the typical rotation of corn and soybean, millet, buck wheat, and sorghum are planted liberally in our flooded areas along with natural foods such as smartweed ensuring adequate food for staggering duck and goose populations that migrate through and winter in and around the Grand pass area. As with other www.showmesnowgeese.com hunts we do not offer lodging at this time but we have gained discounted rates for our clients with some of the local hotels in the area. Our professional hunting guides have one main job and that is allowing our clients to have a safe, enjoyable, and productive waterfowl hunting experience that will last a lifetime.
We will be offering guided regular north zone season duck and Canada goose hunting as well as a very limited amount of semi unguided hunting opportunities these semi unguided hunts will be from one half hour before sunup to 3:00pm and will not be a zone type of hunt unlike our fully unguided duck hunting in south east Missouri but will still be a flat fee just as in the south..