Duck & Goose Hunting Articles, Hunting Tips and Waterfowl Recipes
We are very pleased to have the opportunity to share with you some our hunting articles, waterfowl recipes and our hunting tips & tricks. We have had the privilege to have written and published many of our articles on some of the internets finest waterfowl forums, blogs and article websites.
We hope that you find these Missouri hunting observations, goose hunting tips and waterfowl recipes as enjoyable as we have found them pleasurable to compose. If you have a favorite duck and goose recipe or a special waterfowl hunting tip you would wish to share, please feel free to submit it to us for review and possible addition to our pages.

---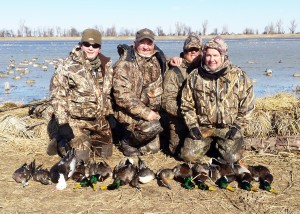 Guided duck hunts are the best way to ensure that a hunter or a hunting party can find the best hunting spots.  Although some groups or solo hunters might prefer "going it alone", it is often the guided hunt that ends up with the most successful harvest throughout the hunting season. And that success doesn't just happen because of the skill of the hunters alone. It has much to do with the experience that guides bring with them as well!
• Knowing where to go: Hunters are often anxious to get on with the hunt. And in their eagerness to get shooting, they often pay little or no attention to one important fact: Where should one go to get great opportunities? With guided duck hunts, you don't really need to worry about knowing that information. Duck hunting club guides are well versed with every aspect of the hunt and will lead their charges to the right spots every time.
• But seriously, where should you go?: Even if you individually, or in consultation with friends and acquaintances, manage to pick a general area where it is known that ducks are in abundance, there is no guarantee that you will have a successful trip. Familiarity with migratory patterns, and knowing the exact fields where ducks are most likely to land is crucial. Picking the right time for you to be at the right spot is what guided duck hunts are all about. Because that's what guides do – all season long!
• What to bring with you?: Ducks and waterfowl are cunning and crafty creations of nature, with an uncanny knack for survival. Having the right hunting equipment – such as camouflage gear – can help you blend into the wilderness much better. Knowing what kind of terrain you'll face often makes for the right choice of gear. Duck hunting club guides make it easy for you to consult and equip yourself for the hunt.
• Setting up for success: Ducks are known to fly at speeds in excess of 60 miles an hour, which makes them a difficult target to hit in-flight with success. That's why most hunters prefer to hunt them when they descend on land. Setting up appropriate decoys and picking the right decoy patterns to encourage ducks to land is something that requires skill and experience. Professionals accompanying the guided duck hunts have all the experience to ensure the birds are fooled into a sense of security, prompting them to land.
• The cost of the hunt: Individuals organizing a duck hunt will likely not be able to afford the variety and quantity of decoys needed for a successful hunt. Most duck hunting clubs can loan or rent everything required by individuals and parties, making the hunt that much more affordable.
So if you've always been a loner, preferring to "do your own thing" on a hunt, perhaps just for once you might want to give guided duck hunts a try. Chances are that, once you've seen the bountiful harvest you (
and your hunting party) bring in, you'll forever want to be guided on your next duck hunting trip!