Duck & Goose Hunting Articles, Hunting Tips and Waterfowl Recipes
We are very pleased to have the opportunity to share with you some our hunting articles, waterfowl recipes and our hunting tips & tricks. We have had the privilege to have written and published many of our articles on some of the internets finest waterfowl forums, blogs and article websites.
We hope that you find these Missouri hunting observations, goose hunting tips and waterfowl recipes as enjoyable as we have found them pleasurable to compose. If you have a favorite duck and goose recipe or a special waterfowl hunting tip you would wish to share, please feel free to submit it to us for review and possible addition to our pages.

---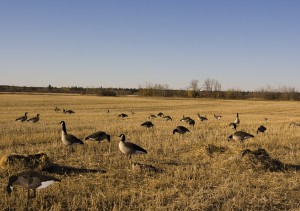 If you've been frustrated on many hunts because you've been unable to bag that trophy goose you've been after for so long, then perhaps it's time to consider guided goose hunts? Many hunters, especially if they've been "going solo" for many years, might look at a guide with suspicion. Some may even consider the professional guides as "competition".
The truth however is far from that. These guides are in fact enablers, and they are there to facilitate a successful hunt. The proof is in the fact that individuals and groups that opt for guided goose hunts often end up with a more bountiful harvest than those that decide to go it on their own. And here's why:
•  Geese can be one of the most cunning and crafty waterfowl around. It takes a combination of skill, craft and patience to successfully bag them. The average goose hunter might not have all of those qualities on their  side to help them. However, professional goose hunting guides do.
• Individuals and groups that venture out on a goose hunt often do so to have fun, excitement, and to enjoy bonding opportunities with friends and family. And in the process, if they bag a few geese, that's the icing on the cake! Going on guided goose hunt allows them to do exactly that. Because while the guide takes over all of the mundane tasks of planning the hunt, members of the group remain stress free to enjoy the occasion.
• One of the key ingredients for successfully bagging geese is knowing where and when to find them. Just because someone is skilled at using a shotgun, and knows how to call, doesn't guarantee a successful harvest. Hunting guides are experts in their field, and know the hunting terrain well enough to predict where and when a flock of geese might work a field. Without that kind of knowledge on your side, it's rather difficult to end a hunt with a few choice goose in the bag.
• Most Hunting outfitters employee professional goose hunting guides. These guides  make sure that the hunting party has all the tools, supplies and gear that will be needed during the hunt. Many a time, novice hunters lack the proper equipment and can miss some great opportunities to bag the prize goose. Going on guided goose hunts will ensure that never happens!
• In addition to the peace of mind, the experience and the convenience that a guided hunt brings, these hunts are often also less expensive than going it alone. The cost of purchasing decoys alone, in sufficient quantities to attract the crafty geese, could be staggering.
So if you really want to improve your odds of bagging that elusive Missouri goose you've been after for a while now, then guided goose hunts are your best bet for success.