Duck & Goose Hunting Articles, Hunting Tips and Waterfowl Recipes
We are very pleased to have the opportunity to share with you some our hunting articles, waterfowl recipes and our hunting tips & tricks. We have had the privilege to have written and published many of our articles on some of the internets finest waterfowl forums, blogs and article websites.
We hope that you find these Missouri hunting observations, goose hunting tips and waterfowl recipes as enjoyable as we have found them pleasurable to compose. If you have a favorite duck and goose recipe or a special waterfowl hunting tip you would wish to share, please feel free to submit it to us for review and possible addition to our pages.

---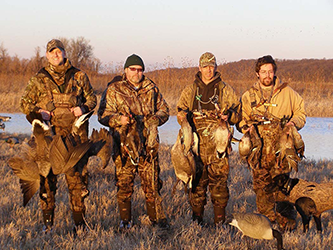 Do you enjoy goose hunting? Do you want to take your hobby up a level? If yes, then you must first master this skill. And the best way to learn the art of Missouri late season goose hunting is to go on a guided goose hunt. Guided hunts can be extremely beneficial for those who want to become a practiced and successful goose hunter. Such hunts can be very knowledgeable and offer great learning experiences.
How Guided Goose Hunts Can Help?
If you have tried hunting before but you've not been lucky in bagging a big number of birds, then a Missouri goose hunting trip will be quite useful for you. Through guided hunts you can significantly improve your goose hunting success ratio.
Here's how:
1.Teach You How to Gear Up For You're Hunt Guided goose hunts are headed by professional hunting guides with years of field experience and immaculate expertise. These experienced hunters can help you gear up for the hunt. This includes the proper hunting clothing that you should wear to blend in with the field so the geese don't spot you and sense danger. Other essentials and accessories include the right type of shotgun, hunting blinds like layout blinds and pit blinds, decoys and goose calls. A Missouri goose hunting guide can provide you complete information and knowledge about the type of shotgun that you should be using to ensure success on this hunt. Using the right gun can help you improve your shooting. Many goose hunters don't know that the modern 12 gauge shotgun is just as good as a old style 10 gauge shot gun when hunting these birds. This is because these new 12 gauge shot guns offer just as good range and gives the goose hunter the ability to target birds with as good or better pattern.  This along with the correct camouflage and gear, you can increase your shot to bird ratio dramatically! It will help you remain hidden in the field and attract nearby waterfowl with the your decoys and calls allowing you to get your geese in to shooting range.
2. Profound Knowledge about Bird Habitat and Hunting Sites
These professional and experienced hunters have profound knowledge about preferred goose habitat and amazing hunting lands. They can take you to out of the way hunting locations and waterfowl migratory routes across the Mississippi Flyway in Missouri which you may not be able to gain access to on your own. Accessing such locations with large flocks of birds provides your guided goose hunt abundant opportunities to bag an impressive number of birds and sharpen your hunting skills. Furthermore, they will also provide you knowledge about the rules and regulations of Missouri waterfowl hunting. This helps you enjoy the hunting season to its fullest without violating any state regulations.
3. You Learn Hunting Strategies and Tactics
Under the guidance of experienced hunters, you learn a lot. They can teach you some of the best hunting strategies and tactics which they have learned over the years through their good and bad experiences. And if you can learn these hunting techniques  without going through the long learning curve you can really improve your goose hunting success rate. So, join a reliable and a professional guided goose hunt and improve your hunting skills dramatically!