Duck & Goose Hunting Articles, Hunting Tips and Waterfowl Recipes
We are very pleased to have the opportunity to share with you some our hunting articles, waterfowl recipes and our hunting tips & tricks. We have had the privilege to have written and published many of our articles on some of the internets finest waterfowl forums, blogs and article websites.
We hope that you find these Missouri hunting observations, goose hunting tips and waterfowl recipes as enjoyable as we have found them pleasurable to compose. If you have a favorite duck and goose recipe or a special waterfowl hunting tip you would wish to share, please feel free to submit it to us for review and possible addition to our pages.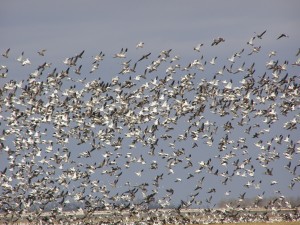 Snow Goose Hunting Season is about to Begin
We are just a few weeks away from the beginning of Missouri snow goose hunting season and hunters could not be more excited. With the spring snow goose season kicking off in February, hunters are booking trips and searching the Internet for the best places to hunt. Well, look no further, because SE Missouri is by far one of the best places in the United… Continue reading →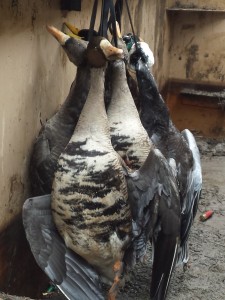 There you are sitting in your blind when suddenly a bunch of grey dots appear In the distance. As they get closer, you realize you are seeing your first specklebelly geese! The specklebelly is one of the more elusive waterfowl for goose hunters, but when you do finally bag a speck, the reward is well worth the wait.
Because the daily limit is often only one or two specks a day, this is… Continue reading →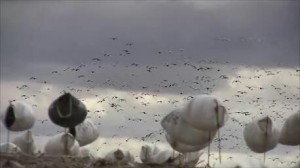 Snow Geese are intelligent creatures and can spot decoy spreads that don't look right from miles away. The trick to enticing incoming flock is in intelligent Snow goose decoy placement. Contrary to what some hunters might think, successfully decoying a flock is not only about using thousands of decoys. Rather, success lies in how the decoys are put out.
While Snow goose hunting decoy placement should take into consideration the behavior patterns adopted… Continue reading →