Duck & Goose Hunting Articles, Hunting Tips and Waterfowl Recipes
We are very pleased to have the opportunity to share with you some our hunting articles, waterfowl recipes and our hunting tips & tricks. We have had the privilege to have written and published many of our articles on some of the internets finest waterfowl forums, blogs and article websites.
We hope that you find these Missouri hunting observations, goose hunting tips and waterfowl recipes as enjoyable as we have found them pleasurable to compose. If you have a favorite duck and goose recipe or a special waterfowl hunting tip you would wish to share, please feel free to submit it to us for review and possible addition to our pages.

---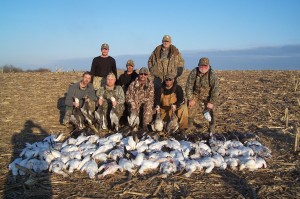 Looking to do some  Snow Geese Hunting this spring? Here is a simple checklist that will magnify your chances of getting more birds and return with a hearty limit fit for a king! Ready? Here we go:
The Time
Spring time, mid-migration with sunny, clear skies and southern winds is the ideal time to catch those migratory young birds that are less inexperienced and educated in terms of decoy tactics and hunting patterns.
The Location
Pasture ponds or small lakes surrounded by crops are the ideal hunting ground as they provide food as well as ample resting grounds for flocks of migrating snow geese. Corn fields or fields comprising of other crops will also do, though look for crops in close proximity to ponds or small lakes for best results!
The Flock
Adults are the more experienced birds flying at the front of the migration, so your target should be the middle and rear migration birds that are comparatively younger and have seen fewer decoy spreads in their lives. Younger snow geese are more likely to respond to your electronic caller, so keep an eye out for these, and you won't be disappointed.
The Decoys
While snow geese hunting in Missouri go with good quality, full body and windsock decoys and aim for large and wide spreads as these birds are much more observant than other waterfowl. A good tip is to place the most realistic of the bunch at the upper one third edge of the spread. Furthermore, it is important to make sure to use a mix of adult, blue and juvenile decoys as snow geese are known for their intelligent and sensitive nature and will probably pick out shoddy, un-natural decoys at a glance.
The Callers
E-callers are a must-have for spring snow geese hunting if you are looking for the best results and complete sound coverage during decoying. Placement also matters – there should be just enough sound coverage when the birds are lowering themselves from an altitude but not so harsh and loud so as to scare the geese away from at close range.
The Motion
Having rotary machines and flyers within the spread is a must in order to distract the birds from the blinds where you are hiding and maintain a natural environment for them to be comfortable.
The Signs
Noticing that the geese are flying away before they finish? Well, the most likely reason is that maybe you are in their full view! Make sure you are properly concealed by heavily brushing the layout blind with the surrounding vegetation during your snow geese hunting trip and keep an eye on the birds from ten until two – that's usually the best time to find them returning from or heading out to feed, and you may turn out to be luckier than you thought.