ShowMeSnowGeese.com – Late Season Goose Hunts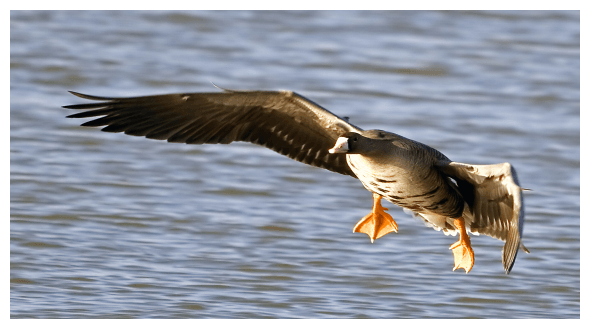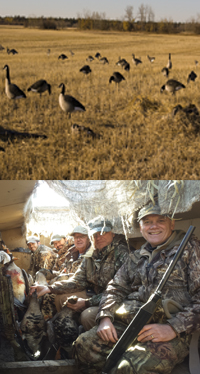 Hunters have you missed Missouri goose hunting action during the prime of the season, Show Me Snow Geese provides special late season guided goose hunts. This ensures that whether you were with us during the waterfowl season, or arrive late in the goose hunting season, you will walk away with your trophy either way.
As expert Missouri goose hunting outfitters, we know that the main component for success on a Missouri guided goose hunt is constantly keeping up with the goose movements. That's why we hunt where they are located today, not where they were resting a week ago. We are fully aware that waterfowl often become decoy-shy and call shy late in the Missouri season. With constant gunning pressure earlier in the season, these birds eventually learn to spot and avoid possible danger. That's why we innovate around every corner and at every occasion.
Our guided goose hunting in Missouri primarily occurs in two locations. The first being in (north central) Missouri at the Golden Triangle Duck Club properties. We have numerous wintering Canada geese residing in this area before they make their way back home. Our skilled Missouri goose guides will take you to areas near Swan Lake National Wildlife Refuge, Fountain Grove Conservation, Maple leaf Conservation and the ever popular Grand Pass Conservation Area, all of which are highly preferred waterfowl hunting areas.
The second area we'll take you to is the bountiful boot heel of South East Missouri, which consists of populous populations of wintering snow geese and white fronted Geese. This is located right by the Missouri-Arkansas border. With our highly trained, seasoned veteran guides leading your group, you can rest assured that you're in good hands when hunting with us. You can expect our guides to be experts at calling, setting decoys, and locating the birds at the right place and at the right time. So you won't go home empty-handed on your Missouri goose hunting trip.
Our close attention to detail and safety makes us the best in the industry. We are more concerned with your safety and ensuring that you have a good time with us, rather than accommodating the maximum number of people on our hunts. This is why Show Me Snow Geese only lets a limited number of hunters through its doors every season. So we encourage you to register well before the season begins to secure a spot on our Missouri goose hunts.
Our north zone Canada goose hunts incorporate low profile layout hunting blinds, A-Frame and Pits that utilize large spreads of top quality goose decoys like Avian X, Dakota, and Avery full body decoys on soybean and corn croplands. These hunts take place starting December 26th and go on till the end of waterfowl hunting season which is when the regular season ends in late January.
On the other hand, our Southeast Missouri guided goose hunting is carried out using only the best goose hunting equipment like layout blinds , Banded and A-Frame goose hunting blinds as well as our pit blinds where we don't only concentrate on the specklebelly goose, but also snow goose. Since these hunts are carried out during the south zone duck season, we will also target ducks at this time. Our, Replica Decoy Co. , Deception outdoors decoys, Avery, Dakota, and older style hardcore decoys are used in dry areas as well as sheet water fields of rice, winter wheat and soybean. You can join us for this from December 26th till the south zone waterfowl hunting season ends.
Show Me Snow Geese invites you to enjoy late goose hunting season with us in either central or in south east Missouri call now to Book a Hunt.