Duck & Goose Hunting Articles, Hunting Tips and Waterfowl Recipes
We are very pleased to have the opportunity to share with you some our hunting articles, waterfowl recipes and our hunting tips & tricks. We have had the privilege to have written and published many of our articles on some of the internets finest waterfowl forums, blogs and article websites.
We hope that you find these Missouri hunting observations, goose hunting tips and waterfowl recipes as enjoyable as we have found them pleasurable to compose. If you have a favorite duck and goose recipe or a special waterfowl hunting tip you would wish to share, please feel free to submit it to us for review and possible addition to our pages.

---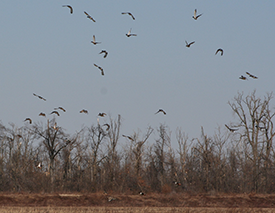 Are you going to Missouri for a duck hunting trip for the first time? Do you want to have a memorable experience and come back home with great hunting stories to share with your friends and family? If it's a big yes, then it is advisable to join a Missouri Hunting Club and go on a guided duck hunting trip.
Missouri Hunting Club vs. Unguided Duck Hunts
The real joy and fun of duck hunting lie in how many ducks you are able to bag. For this, you need to be geared properly in camouflage that can help you stay hidden so that the ducks don't spot you. You also need to have good knowledge about the locations where you can find large flocks of ducks. Now, if you are going to Missouri for the first time, and you are a novice hunter, then an unguided hunt will never be able to deliver you the kind of hunting action you are drooling for. To experience the real thrill you could try our Golden triangle duck club.
Most Missouri's hunting clubs will take care of almost everything while you enjoy a hunt with peace of mind. Duck hunting clubs are overseen by professional hunters who have years of hunting experience and knowledge of the amazing waterfowl locations. These experienced and knowledgeable hunters provide you with guidance that will help you make the most of your trip to Missouri.
During a guided duck hunt, these professional hunters take you to the best places for shooting ducks as they have good knowledge of the bird migratory routes in Missouri.
Enjoy Hunting Facilities
Many of the duck hunting clubs in Missouri offer hunters fantastic in ground blinds. These blinds have power, water-pumps in front of the blind for water circulation and are also dog friendly. Besides this, some hunting clubs also provide decoys. This saves you money as you don't have to invest in decoys.
Lodging Area
Once you sign up with a duck hunting club, you don't have to look for hotels to stay.  These are near or sometimes located within the hunting grounds. Some are spacious and have all the facilities that one can ask for such as dining places.
Learn Hunting Techniques
Under the guidance of a professional hunter, you get to learn proven hunting strategies and techniques, which help you enjoy a successful duck hunt. It shortens the long learning curve that many unguided hunters have to go through.
So, for a successful and an enjoyable hunting expedition, join a duck hunt club!