Duck & Goose Hunting Articles, Hunting Tips and Waterfowl Recipes
We are very pleased to have the opportunity to share with you some our hunting articles, waterfowl recipes and our hunting tips & tricks. We have had the privilege to have written and published many of our articles on some of the internets finest waterfowl forums, blogs and article websites.
We hope that you find these Missouri hunting observations, goose hunting tips and waterfowl recipes as enjoyable as we have found them pleasurable to compose. If you have a favorite duck and goose recipe or a special waterfowl hunting tip you would wish to share, please feel free to submit it to us for review and possible addition to our pages.

---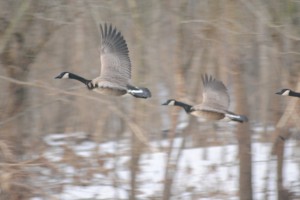 As any Missouri goose hunting veteran can tell you, expect any and every type of weather during late season goose hunting.  The weather changes this year have been many with quite a variety of temperature. You can go out one day and it will be cloudy and 50 degrees and the next it will be 75 and pouring rain. As with any outdoor sport, the weather affects your performance. Knowing how to handle and hunt the different conditions will improve your trip.
Rain is probably one of the worst conditions Missouri goose hunters have to deal with because the conditions are so varying. For instance, a light rain and wind is generally great for an early morning hunt. The geese want to get out and feed early. However, if it is a steady downpour, everything changes. You may sit around all day waiting for the geese to move as they wait out the driving rain.
Because rainy days are common in the fall and early winter, every hunter should invest in quality gear for both themselves and the dog. Remember, your dog needs to be comfortable too, so do not leave him out in the elements to become wet and miserable.
A good quality wader such as Drake or the Banded  Insulated waders should do the trick. These waders will run you around $250-350, but they will keep you dry and warm. Sitka also has good waterfowl outer wear to protect you from both the rain and the wind, like the Delta wading Jacket. You can probably find it for around $350. And, like we said, do not forget about your dog. Some type of vest or even a blind is warranted in this weather to keep him comfortable and ready to go while you are waiting on the geese.
When it comes to wind, the more the merrier usually. Variable days can get frustrating, but while medium winds generally lead to an abundance of birds, they can be difficult for other reasons. For instance, heavy winds can ruin your decoy spread. On days such as this, try to use decoys with field stakes, as they can stand up to the wind and will not topple over like ring-based decoys.
Another challenge of a light wind is that it gives the geese far too long to check out your set up. And on heavy wind days the problem here is that while you may get a good first shot, they can quickly get out of dodge after that shot. Your trailing shots will be at a greater distance and probably much more difficult.
The early part of the season will often see its fair share of calm, warm days that does not do any favors for the hunter. You will probably have to change your habits just as much as the geese do under these conditions. For instance, you may want to decrease the number of your decoys on some days or use more motion to draw the attention of the geese.
Later in the season you will often see its fair share of cold and snow. During this period, it is important to monitor the behavior of the geese to improve your hunts. For instance, geese will often feed longer on short days or ahead of weather fronts, which can be much better Missouri goose hunting conditions. Decoys are also easier to see against the white background. However, traditional camo is also easier to see, so you will need to have the proper snow gear for concealment.
Scouting will play a major role in your success for stretches such as this because the waterfowl are going to move into areas they may not normally explore, so you need to the do the same thing. Otherwise, you may end up stuck in a stagnant area for days with little to show for your time and effort. The more you scout during these times, the better chance you have of racking up some good numbers and putting a big, fat goose on the table for dinner.
The one thing we all love about goose hunting in Missouri is that it presents many challenges. Every day can be different, but that is what makes the days when we bag a limit all the more rewarding. You have to have the proper gear, patience, and be willing to think out of the box at times in order to be a successful Missouri goose hunter.
And, remember, if you are new to the area, it often pays off to have a local waterfowl hunting guide show you the ropes. Guides are a great asset even for experienced goose hunters that are seeing unexpected conditions for the first time. Your investment in hiring a quality guide will pay off tenfold when you catch your quota for the season!