Duck & Goose Hunting Articles, Hunting Tips and Waterfowl Recipes
We are very pleased to have the opportunity to share with you some our hunting articles, waterfowl recipes and our hunting tips & tricks. We have had the privilege to have written and published many of our articles on some of the internets finest waterfowl forums, blogs and article websites.
We hope that you find these Missouri hunting observations, goose hunting tips and waterfowl recipes as enjoyable as we have found them pleasurable to compose. If you have a favorite duck and goose recipe or a special waterfowl hunting tip you would wish to share, please feel free to submit it to us for review and possible addition to our pages.

---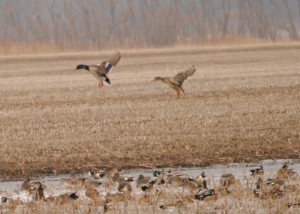 The traditional duck hunt remains one of the most popular activities for sportsmen with the Mississippi flyway having been regarded as one of the best spots for such purposes. Missouri guided duck hunting offers the ideal conditions for tracking large flocks of birds and as a result of its modern farming and suitable weather; the population has grown steadily over time. Considerations for locations offering the finest hunting should be considered for the optimum results.
South-Eastern Missouri's popularity has grown in abundance with golden rice fields as a result of positive agricultural practice that is best suited to the expansion of duck populations and successful hunting results. Professional guided hunts are becoming increasingly popular as it offers a number of opportunities for individuals who wish to experience the thrills of such activities. Industry experts with extensive skill and training can ensure that you receive a prized possession at the end of the trip.
The Mississippi flyway has been regarded as having some the best duck hunting, including well concealed pits constructed of steel that are adequately nestled in the soybean and rice fields. One of the necessary factors that must be considered in successful hunting practice is the farming methods that are put in place for the growth of an ideal environment and food source for the birds. Ducks will only thrive because of the adequate conditions for population growth and shelter.
With the Missouri Delta having been heavily farmed in the past, cleared of the traditional swamp conditions of fertile soil resulting in diminished growth of wetlands needed to sustain bird populations. Since the early 1990s, conservation practice has required that such regions remain preserved and dedicated to restoring the waterfowl numbers. Agricultural fields have been focused on in terms of expansion and the restoration of the aquatic plants and conditions in wetlands that served as suitable resources for all types of wildlife that thrived in these regions.
The Mississippi flyway is a favored location for Missouri guided duck hunts because it allows one to view and scout hundreds of thousands of ducks that take refuge in the area. Modern farming practices have allowed for the birds to roost and feed in many areas that provide suitable fields with abundant waist grain. The farms ensure the environmental practice is put in place allowing birds to feed, while promoting the growth of separate lands to ensure that the swamp regions remain replenished.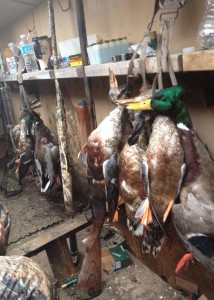 The farms that have grown considerably within the area have focused on the development of soy, and rice fields. Such plant growth is favorable for the waterfowl, but is also attributed to the change in weather patterns that allows for suitable expansions and conditions that are ideal for environmental purposes. Such means are regarded as among the best possible resources for the preservation of waterfowl and thriving populations.
Over the last 30 years, the modern processes and changes within agriculture, including weather patterns have given rise to the suitable growth and development of duck hunting in this region. In specific regions of Missouri, it delivers ideal climatic conditions and combined with new farming methods for sustainability serves as the best means of maintaining large flocks in this area. The most popular birds include snow geese that seem to prefer the mild conditions and tend to come down more often making for the ideal hunt.
Many do not realize that weather conditions play a significant role in the production of waterfowl populations and in hunting conditions. Guided hunts offer the opportunity to learn more about the wintering populations and the feeding patterns that ensure ideal bird behavior is engaged, and you are able to target the birds in this region. Many hunters would agree that the closer it is to a weather front, the more likely it would be to decoy greater numbers of waterfowl in comparison to warmer, windless  summer days with clear skies.
For any successful outcome, it is important to remain knowledgeable about fronts and how these  conditions will impact on the likelihood of decoying significant numbers of ducks to your hunting area. When there is news that a low-pressure system is on its way, it can serve as the ideal choice for duck hunting because it brings cloud cover with it resulting in changes in the patterns of waterfowl behave. Rather than birds going out at night to feed, the cover brings them out during the day and makes it more difficult for hunters to be spotted by the birds.
Windy conditions and rains lead the birds to seek out more suitable shelter, including coves and jetties that make for the ideal opportunities for hunters. Setting up decoys and having a professional guide to make realistically call sounds can draw animals toward your decoys with greater chance of taking that desired trophy bird. The different winds and high pressures also mean that flocks fly lower to the ground making for easier targets and increases the likelihood of being able to obtain your daily limit while Missouri duck hunting.